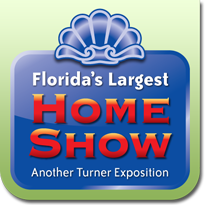 Hey everyone.  We're back with some great things to do in Tampa Bay, especially for you homeowners...or even those who want to own a home someday!  Florida's largest home show is coming to downtown Tampa next weekend, and it's not one you'll want to miss! 
This Home Show is the huge, once-a- year Labor Day sale for homeowners who are looking for affordable ways to repair, remodel, furnish or landscape their homes. Attendees can browse, shop and save on thousands of products at the Tampa Convention Center from Friday, September 2 through Monday, September 5...that's four days of shopping and saving!!!! 
If you're wondering what the over 1,000 displays and exhibits will feature, here you go:
Seminars with Brian Santos, "The Wall Wizard," to learn how surrounding yourself with the right colors in your home can help you maximize productivity, minimize visual fatigue, and relax your whole body;
Mrs. Fix It offering simple household repair and maintenance demonstrations;
Adjustable Patio Covers, the pergola coverings for decks or patios that open and close so you determine how much sunlight you let in;
AlternaScapes artificial grass and synthetic grass that "lives" under any condition and always looks perfect;
Sun tanning showers and skin rejuvenators that allow you to shower and tan at the same time -- retrofit units that look like they belong on a spaceship;
Voice-activated, touchless toilets, faucets and lighting devices; all retrofit and affordable;
360-degree surveillance cameras the size of a pinhead, great for watching kids and property via your computer;
World of Decor Auction – selling one-of-a-kind furnishings, architectural elements, rugs, lighting & artwork;
Fun bathtub options for kids from American Standard  http://www.americanstandard-us.com/funbath/#video;
Fantastic Tasting Pavilion where guests can taste what's new in wine, craft beers and spirits;
Gorgeous, affordable doors to brighten homes, as well as ways to keep homes and families safe and secure from Door Pro: http://www.doorpro-entryways.com/;
and The latest in kitchens, baths, countertops, and flooring displays.
But of course there'll be a lot more there too.  The hours are Friday, 11 a.m. to 6 p.m., Saturday, 11 a.m. to 8 p.m., and Sunday/Monday, 11 a.m. to 6 p.m. Adult admission is $8; seniors (55+) $7; and children under 12 are admitted free with a paid adult.  For more information just head over to www.bighomeshow.com or www.facebook.com/FLHomeShow, or follow the show at www.twitter.com/HomeShowTampa.
Have fun and let us know what you thought was the coolest thing there!  And of course, we'll see you back here for other Tampa Bay area events and other Tampa Bay Entertainment options.