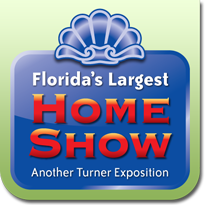 Hello there everyone! Jerm here with another exciting giveaway for the
Florida's Largest Homeshow
event coming to the
Tampa Convention Center
this weekend! This Home Show is the beyond huge folks! This once-a- year Labor Day sale is for homeowners who are looking for affordable ways to repair, remodel, furnish or landscape their homes.
Attendees can browse, shop and save on thousands of products at the Tampa Convention Center from Friday, September 2 through Monday, September 5...that's four days of shopping and saving!!!! 
As always, we have the hook-up and will be giving you guys a chance to win some tickets! The format will be the same as always, and all you gotta do is answer some trivia about this amazing event and you will win four tickets! We will give away one 4 pack on
Twitter
and one 4 pack on
Facebook
! Just answer the trivia giveaway correctly and you will be entered in for a chance to win from our random drawing!
For those of you on Twitter, retweeting does increase your chances of winning.
Okay enough babble from me, here are the questions:
Also known as "The Wall Wizard," let this guru show you how surrounding yourself with the right colors in your home can help you maximize productivity, minimize visual fatigue, and relax your whole body?
True or False: Admission for Adults on Friday is $8?
On hand at Florida's Largest Homeshow, Terri McGraw is the co-creator and talent for this nationally syndicated news segment, which has been seen in over 100 television markets across the U.S. and Canada?
Okay folks, get to answering as we'll be around later this evening to announce winners! That's all for now, but stay tuned in for more info on things to do in Tampa Bay!