The Floridan was originally built in 1927 and served for decades as a 426-room hotel in downtown Tampa. Famous guests included Gary Cooper, James Stewart, Elvis Presley and Charlton Heston. John F. Kennedy had a reservation to stay there immediately following his 1963 Dallas trip, where he was assassinated.
Its doors were thought to be closed for good in 1989 because the owners could not afford to bring it up to current fire code. For years, the Floridan stood as only a historic building, until it was bought in 2005 by a hotel entrepreneur who wanted to bring it to life again.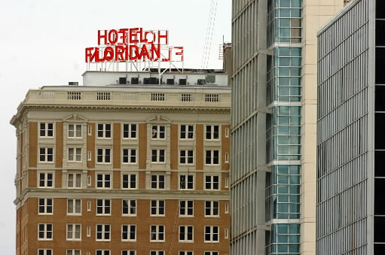 Since being purchased, this 19-story historic jewel has been undergoing a complete and extensive renovation and is expected to once again open its doors to the public by the end of this year. It is expected to be a prime destination for business travelers, weddings, graduations and for actors and musicians in town for performances at the
Tampa Bay Performing Arts Center
and
Tampa Theatre
. When it reopens as a 213-room (15 suites) hotel, it will add even more rooms - and a lot of history - to Tampa's downtown hotel package.
Thanks for stopping by and keep checking back for more exciting Tampa Bay hotel news!