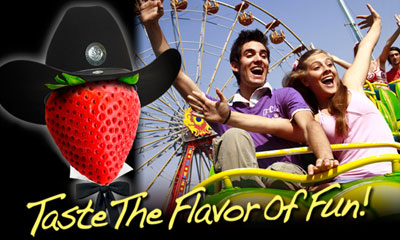 Hello there folks! We're back for day two of our
Florida Strawberry Festival Giveaway
! Congrats to our winners from yesterday and be sure to have a great time at the event this weekend! Oh yeah and eat plenty of Strawberries!
That's right folks the Strawberry is going on till March 13, and its plenty of food, fun and entertainment to be had for all, so if you hadn't already purchased tickets, be sure to do so, or just head out there purchase at the box office!
This weekend will be filled with pretty big acts like Billy Ray Cyrus, Lady Antebellum, and many more! That should give you more than enough reason to play along with us today and try to win our ticket giveaway!
To win, all you gotta do is answer the three trivia questions below. Then if you have the correct answers you are entered into a random drawing! For those of you playing on
Twitter
, it does
increase your chances of winning if you Re-Tweet the original trivia tweet.
Facebook
users just be sure to get the question correct as well. Answers submitted via the comments section of this blog do not count.
Today we only have one 4-pack of tickets to give away so be sure to pay attention today for your chance to win!
Okay folks its trivia time! Today's trivia will feature on some of the
history
behind the Florida Strawberry Festival! Here goes:
True of False: The Florida Strawberry Festival operates its own post office that is open 5 days a week, excluding holidays?
True or False: In 1930, the American Legion Post #26 helped get the Florida Strawberry Festival reactivated following a six-year hiatus during and immediately following World War II.
More than how many acres of strawberries are planted in Hillsborough County each year?
Okay guys, remember to get your answers in! That's all for now but be sure to check back around 4pm for the winners and stay tuned for more on Tampa Bay area events and things to do in Tampa Bay!