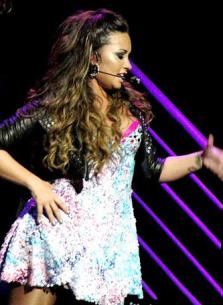 Good afternoon folks! Jerm here with an update for you on day two of the 2012 Florida Strawberry Festival!
As you may or may not know, the 2012 Florida Strawberry Festival kicked off yesterday, and will be in full swing this weekend in beautiful Plant City Florida!
If you didn't make it out yesterday, no worries, as you have ten more days to enjoy all of that Strawberry goodness and family fun!
There are going to be some pretty big musical acts on display all festival long, and one of those kicks off tonight at 7:30 pm when recording artist Demi Lovato will be on stage to perform and rock the crowd! We got our hands on some tickets and we are gonna give one lucky fan a chance to see her live and in person!
Our winner today will get two tickets for entry into the festival along with two tickets to see Demi!
As usual all you have to do is answer some questions on Facebook and/or Twitter and you'll be entered to win a pair of tickets! Remember to retweet or share the original question on Facebook and/or Twitter to increase your chances of winning! Okay here goes!
True or False: Lovato was born in Santa Fe, New Mexico on August 20, 1992, and raised in Dallas, Texas?
Name the 1998 Strawberry Festival Queen?
True or False: Lovato began her acting career at the age of seven on the children's television series Barney & Friends as Angela?
Okay folks get to answering, and I suggest you do so quickly as we will be announcing the winner today around 2pm so that you have time to get everything together for this evening if you want to make it out tonight! That's it for now, but stay tuned in for more Strawberry Festival related updates and Tampa Bay area events!