Hello all! Jerm here with a pretty cool update about one of the year's most anticipated Tampa Bay area events coming soon!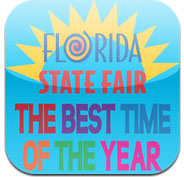 As you can probably guess, our friends over at
The Florida State Fair
are always looking for ways to help improve what is already a great guest experience.  Now being the nerd that I am, I was stoked to hear that they are now offering their "
Florida State Fair App
" to anyone with an iPhone or iPad for free.
This new interactive app will provide users with a multimedia rich experience during their visit to the Florida State Fair.
This application features the "find my car" or as I like to call it, the "Dude Where's My Car" application that will record where you parked your car with the touch of a button! This will be useful to fair goers that have enjoyed a long day of rides and entertainment, and aren't sure where they parked their cars, which i am sure happens to all of us at some point.
Some additional features will include an event schedule and integrated map feature that shows you where you are at the fair, and also where highlighted entertainment will be at what time.  With just the touch of a finger, the app will send you a reminder fifteen minutes before the event gets underway.
Now for those of you Android users out there, don't worry, as the Fair folks plan to release the Android counterpart in the coming weeks. So get to downloading folks, and be sure to check out the
Florida State Fair website
for more info on this year's event!