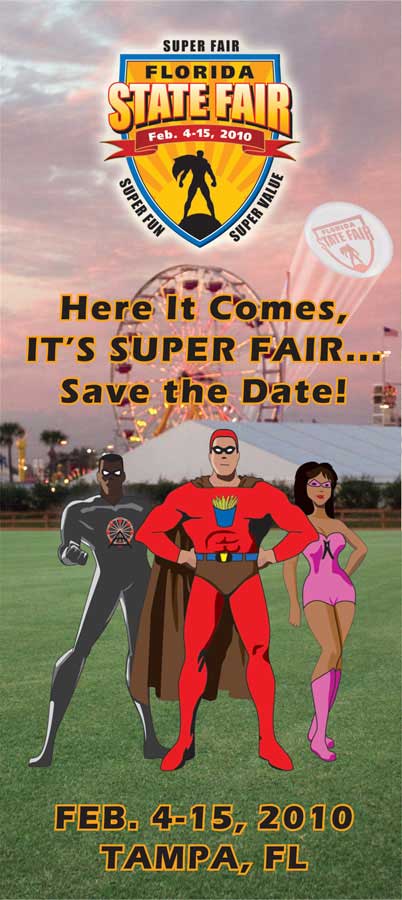 Hey everyone!  Travis back with some cool Tampa Bay entertainment options for you!  This time...you can be the Tampa Bay entertainment. 
If you have talent, then the Florida State Fair is looking for you to audition live for its International Talent Competition this Saturday (December 5).  You can audition to be the next big star in one of the following categories in English or Spanish language: Singers/Bands; Instrumental (without lyrics); Dancers; Performance Art (comedy, magic, etc.). 
Here are the details:
The event will be held at the Florida State Fairgrounds in the Ag Hall of Fame building.  Registration starts at 3 p.m. with live auditions beginning in order of arrival by each contestant. 
Parking and admission is free for this event.  Visitors should enter the property via the Orient Road entrance and follow the signs to the building for auditions.  Only live auditions will be considered; any other audition format such as video or audio tapes will be disqualified. 
The 2010 Florida State Fair International Talent Competition is open only to individuals who are 18 years of age or older and are legally eligible to work in the United States.  The decisions of the judging panel are final. 
There are no appeals or second chances. The Florida State Fair will select the best performers from each category and invite them to compete before a live audience and judges at the next 2010 Florida State Fair held on Feb. 4-15. 
Those who make it to the next round will be given a specific date and time to perform during the fair and vie for the grand prize.  Performance contracts will be offered to the best four contestants and those who accept the contract terms will be paid to perform at the 2011 Florida State Fair. 
The grand prize for overall best performer is a twelve day contract, first runner up receives a contract to perform for two weekends, second runner up receives a contract to perform on the first weekend and the third runner up will be offered a contract to perform on the last weekend of the 2011 Florida State Fair.
And, here are some simple instructions for contestants who plan to audition: 1 - Choose what category you are auditioning for. 2 - Come prepared with accompanying music or instruments necessary to demonstrate your talent.  3 - Arrive on time for registration to read all paperwork and complete any necessary forms.  Forms are in English so please bring an English translator if necessary. 4 - Due to time restrictions, performance time is limited to 1 minute in length -- not an entire song. For example, choose the best 16 bars that really show your singing ability. 5 - Be sure that your playback is pre-keyed to the selection you want to interpret. 6 - Costumes are NOT required.  Judging is based on talent not your outfit. Simple non-distracting clothes and appropriate dance wear is acceptable. 7 - Parents, spouses, or any other people accompanying are not allowed to speak or provide assistance during the auditioning process. 
And there you have it...a chance to become a star!  So make your plans to be out there this weekend.  And, make your plans to attend the 2010 Florida State Fair!  Just head over to www.floridastatefair.com for more info. 
And as always, keep checking back here for more great things to do in Tampa Bay, and other Tampa Bay area events.