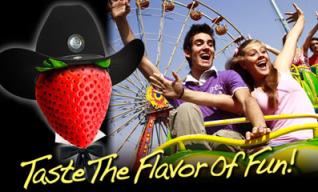 Hey folks! It's the moment you've all been waiting for! Its
Florida Strawberry Festival
giveaway time!
That's right peeps, today two lucky winners will each walk away today with a four pack of tickets to the Strawberrylicious Festival!
The Florida Strawberry Festival is going on now as we speak with more food, fun, strawberries, and entertainment than your mind can process, so even if you don't win one of today's giveaways its still a great event for family and friends alike!
All you gotta do is answer the three trivia questions. Then if you have the correct answers you are entered into a random drawing! For those of you playing on
Twitter
, it does
increase your chances of winning if you Re-Tweet the original trivia tweet.
Facebook
users just be sure to get the question correct as well. Answers submitted via the comments section of this blog do not count.
Because we are feeling extra awesome today, we will be giving away eight.... yes you heard me correctly eight total tickets today in the form of one 4-pack on Twitter and another on Facebook!
Okay folks its trivia time! Today's trivia will feature on this weekend's headlining entertainment! Here goes:
Country music superstar Billy Ray Cyrus will light up the stage this weekend at the Florida Strawberry Festival. Name the college Cyrus attended on a collegiate baseball scholarship before deciding to pursue musical interests?
ICarly star and Country Pop recording artist Jennette McCurdy, got her interest in acting after watching this classic sci-fi box office hit starring Harrison Ford? (Be Very Specific)
True or False: Country Music super-group Lady Antebellum recently won a total of six Grammy Awards at the recent 2011 Grammy Awards.
Okay guys, remember to get your answers in! That's all for now but be sure to check back around 4pm for the winners and stay tuned for more on Tampa Bay area events and things to do in Tampa Bay!