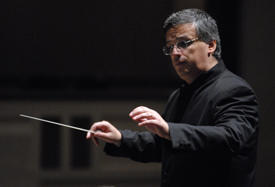 Hi everyone!  Travis back with more great things to do in Tampa Bay!  We are talking about the Florida Orchestra today, so get the ear drums ready! 
It's a night of sumptuous orchestral sounds and contrasting moods with Richard Strauss' tone poems Till Eulenspiegel's Merry Pranks and Death & Transfiguration...followed by Shostakovich's Symphony No. 6, surging forth from its deeply contemplative and gorgeous opening to its frenzied and festive finale.
There are a few dates, so make your plans to be at one of them (at different locations in Tampa Bay)
Fri, Jan 8, at 8 pm: Straz Center for the Performing Arts - Carol Morsani Hall
Sat, Jan 9, at 8 pm: Progress Energy Center for the Arts - Mahaffey Theater
Sun, Jan 10, at 7:30 pm: Ruth Eckerd Hall
And, tickets are: $20, $30, $43, $53, $67.  Plus ther is a Pre-Concert Conversation: All Masterworks programs offer a pre-concert talk about the music and the composers in the concert hall beginning one hour prior to curtain. 
It's going to be a great night(s), so enjoy!  And keep checking back for more great Tampa Bay area events and other Tampa Bay entertainment options.