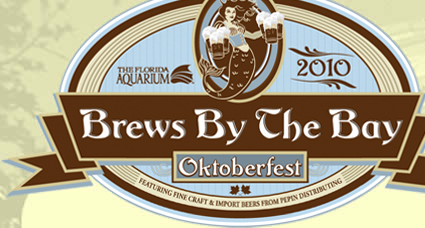 Hey Tampa, Melissa here again. This time I'm writing to let you guys know about the Florida Aquarium's 2nd Annual Brews by the Bay, featuring Oktoberfest brews and craft beers. This beer and food tasting will take place on Saturday, October 9th from 8 p.m. to midnight.
This German party will be a little different than what you might be used to. The party not only has great food and barrels of beer, but couples them with live entertainment, dancing and really cool exhibits throughout the aquarium.
Over 60 types of beer and food from some of the Bay's greatest restaurants will be featured, so you will definitely be able to find your perfect beer. If you are a member of the Florida Aquarium (and buy tickets before October 2nd), you can save some money and get tickets for $45 a piece. If you are not a member, but still purchase before the 2nd, tickets will be $50 a person.
Any tickets purchased on, or after October 2nd will be $60. These prices are pretty affordable, considering your tab at a local bar could run you more than that. What's so great about this event is it's essentially like going to the bar-without the tight quarters and long lines.
For a list of participating restaurants,
click here
.
For the beer list,
click here
.
If this sounds like something you are interested in, do not hesitate to buy tickets. And remember, you have to be at least 21 years old to attend.
And of course, keep checking back here to learn more about all the exciting Tampa Bay area events we have to offer!