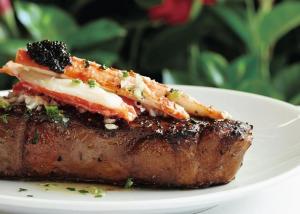 Today, Fleming's Prime Steakhouse & Wine Bar launched its new menu nationwide featuring dry-aged steaks, bold cuts and enticing Steak Companions.  The restaurant debuted dry aging preparation for richer, bolder flavor on select cuts and delicious Steak Companions and sauces for an elevated taste experience that goes above and beyond the classic steak.
The steak cuts are classically and expertly seasoned with kosher salt and black pepper then broiled at 1600 degrees or iron-crusted and finished with butter and fresh parsley.
I had the chance to dine with some local foodie bloggers last night and we had a special sneak peak of the new menu items launching today.  I can say that the flavors are bold and out of this world.  Fleming's always sets the bar high, but they have gone well above their usual preparation of prime meats and sides and those looking for an amazing dining experience, will be in steakhouse heaven.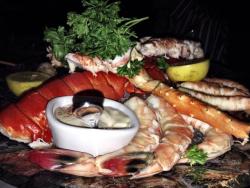 We started with the Goliath Chilled Seafood Tower.  Literally a TOWER of fresh lobster, jumbo shrimp, crab and seasonal selections with traditional accompaniments.  The menu says it is plenty for 2 or more and they aren't lying. It is massive and a delicious start to your meal!
Next up, our Starter, a crisp Pork Belly with fennel and orange salad over a grainy and divine mustard vinaigrette.  Fleming's suggests a balanced pairing from their Fleming's 100 list, the Olivier Leflaive, Meursault, France was the perfect wine pairing to accompany this flavorful dish.

For the Entrée guests have the choice of the following steaks Prime Dry-Aged Ribeye (my favorite cut and my choice that night), Prime Dry-Aged New York Strip or the 35 oz. Prime Tomahawk.  After your cut choice you will be asked if you want you steak prepared Dry-Aged or Wet-Aged.  The Dry-Age cuts are prepared with a minimum of 21 days allowing a richer, bolder flavor with a distinctive nutty nose. Or guests can choose the Wet-Aged, these cuts also get a minimum of 21 days providing a juicy, flavorful and savory bite.  Don't think you are done yet… next question from your server, what is your Steak Companion choice?  Guests can choose from the Truffled Poached Lobster with Bearnaise sauce and topped with caviar, the Diablo Shrimp baked with a spiced barbeque butter sauce, the King Crab with Herb Butter simmered with fresh herbs and garlic topped with caviar or lastly, my recommendation, the Flavor Trio.  Three savory steak spreads include a trio of Gorgonzola and mascarpone brulee, sweet onion bacon jam and Cabernet mustard.  And don't forget the Fleming's famous sides.  A must-have is the Rosemary & Garlic Cipollini Onions, so sweet… so savory! The Fleming's Potatoes, Chipolte Cheddar Macaroni & Cheese and Grilled High Country Asparagus are also great choices.
And then for the grand finale…. and most important dish, dessert! Duh! The picture does NOT even do this dessert justice.  The Cappuccino S'More trumps any dessert I have ever had.  I am not kidding.  Under the flame torched marshmallow is the richest fudge I have ever experienced.  Pair it with a glass of the Chambers, Muscadelle, Rutherglen Australia for a palate party!
 
Stay tuned for more ways to unlock your palate in Tampa Bay!
 
Cheers Y'all!
- Kat
About Fleming's Prime Steakhouse & Wine Bar:
Nationally acclaimed Fleming's Prime Steakhouse & Wine Bar offers the best in steakhouse dining – Prime meats and chops, fresh fish and poultry, generous salads and side orders — with a unique wine list known as the Fleming's 100®, which features more than 100 wines served by the glass. In addition, the Fleming's WiNEPAD™, winner of the 2013 Hospitality Technology Breakthrough Awards, is a proprietary, custom web-based application on an iPad that helps Guests easily navigate the restaurant's extensive wine list. Fleming's was launched in Newport Beach, California, in 1998 by successful restaurant industry veterans Paul Fleming and Bill Allen. Today there are 65 restaurants nationwide, including the latest Fleming's, recently opened in both Beverly Hills and Palo Alto. Fleming's is the recipient of numerous prestigious awards, including Wine Enthusiast's annual Award of Distinction and Wine Spectator's annual Award of Excellence. For more information about Fleming's Prime Steakhouse & Wine Bar and the Fleming's 100®, please visit FlemingsSteakhouse.com