Day three here at the Social Media Command Center in Tampa Bay for the 2012 Republican National Convention and we are still kicking away and telling the story of our great destination!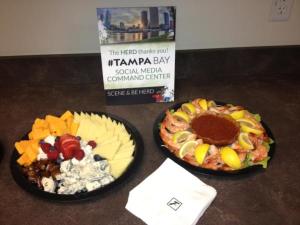 To aid in that effort, all week long some of our great local restaurants have been dropping off food for us to consume while we site for hours at a time in front of computers communicating to the masses online.
Last night the fine folks from over at Fleming's Prime Steakhouse & Martini Bar, were kind of enough to bring us a late night snack! As you can see, there was an assortment of meats, cheeses, fruit, and my absolute favorite SHRIMP COCKTAIL!
So many thanks to Emily at Fleming's for feeding our bellies with these awesome eats!
I myself am a huge fan of Fleming's and love the food there, and this week for RNC, they will be open for lunch so you can enjoy Fleming's for lunch, happy hour and of course dinner! Of course, if you have an event you would like to host, they can help you with that as well!
For more information about Fleming's as well as their monthly specials, visit their website at http://www.flemingssteakhouse.com/locations/fl/tampa, or call 813-874-9463 (WINE)!
That's all for now, but stay tuned in for more updates on Tampa Bay dining!