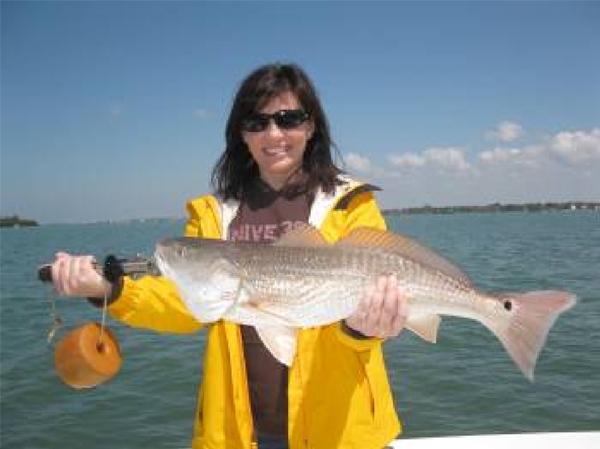 Hey everyone...Travis back with another fishing report from Stewart Ames!  if you are looking for some great Tampa Bay entertainment on the water...catching some fish, you'll appreciate this update.  So, listen up, cuz this is important...from the Captain:
Spring is here...a month late...but it is finally here. Looking in to the first week in April, daytime temperatures will be in the mid to high seventies, bringing water temperatures up to that magical 70 degree plus mark. 
In a normal year, this would trigger all of our top three inshore species to bite better but this year it is likely that one of these species will be noticeably absent. Snook that are usually starting to gather along mangrove shorelines and at creek and canal mouths are nowhere to be seen.  One theory is that these fish are the ones that winter over in backwater locations and that the vast majority of these fish were killed during our record cold. 
As snook start to populate the beaches in late spring, in advance of their summer spawn, these "inshore" fish move out and another group of "offshore" fish come in from near shore rocks and reefs.  Hopefully, we'll see a good influx of fish from the outside and will still have a reasonably good snook season on the beaches.  Time will tell.  Tampa Bay tends to hold more snook and may be a better place to look for snook earlier in the season.  Snook are closed through September, as of now, so all snook must be released. There is a chance that this closure will be extended for a significantly longer period of time if it is determined that the snook stocks have been severely damaged.
On the bright side, big seatrout fishing in northern Pinellas County has been off the hook lately.  Numerous 20 fish plus days were recorded in March and, on some of these days, it was difficult to keep a limit as many of the fish were over 20 inches.  This trout fishing should continue on into April.  In May, these fish will begin to scatter.  First, they'll move to the beaches and then depart for the summer. A "select" shrimp under a bobber is still a great approach to catch these fish but whitebait rules as #1 bait once it arrives...which it has.  It's still a little scarce but will continue to become more available with the passing of each 75 degree plus day.  Soon it will be everywhere.  Fishing whitebait under a bobber, with a small split shot and free-lined are all techniques that work...just experiment until the fish bite.
 
Our most commonly sought after inshore species, the redfish, has started to shake of it's finicky winter ways.  On the last good tide phase in March, several trips yielded 6 - 8 fish...all of good quality.  Most of this fish being caught right now are still in the 25 to 30 inch category and pull good and hard.  The first set of strong tides in April should be highly productive and fishing should stay strong from there forward throughout the summer.  Even with the whitebait now available, the redfish are still showing a preference for shrimp and pinfish, but as soon as the pilchards work their way back further inshore, these fish will turn on to them. 
This re-setting of their taste buds should also happen on these next strong tides.  In the meantime, continue to throw pinfish and large shrimp around oyster bars and productive mangrove shorelines on the high tides and under docks on the weaker tides. Tackle up with 15 pound braided line and 20 pound flourocarbon leader for a challenging fight.  Around structure, use a split shot to hold your bait in place.  On the open flats, using a bobber may be the best approach if the wind and current  are such that they will drift your bait over a large stretch of your target area. 
Early April usually signals the beginning of our spring kingfishing season as well.  With the cooler than average temperatures in March, the kings are not here as of this writing, however with the bait showing up and the first few Spanish mackerel already starting to be caught, it won't be long. 
Also, don't forget that grouper is now open again.  Fishermen going to 40 feet or deeper have done well on the gags.  The bottom line is that fishing is on the verge of "going off" so dust off the gear and get out there.  For anyone looking to get out in April, most of the best "tide days" are gone.  May does have a lot more availability however.  Good luck and good fishing
And there you have it...advice and knowledge from a fishing expert.  So, go have some fun on the water.  If you want more info about fishing, or info about a charter, just visit his website at www.tampa-fishing-charter.com.
Keep checking back for more great Tampa Bay area events or other great things to do in Tampa Bay.