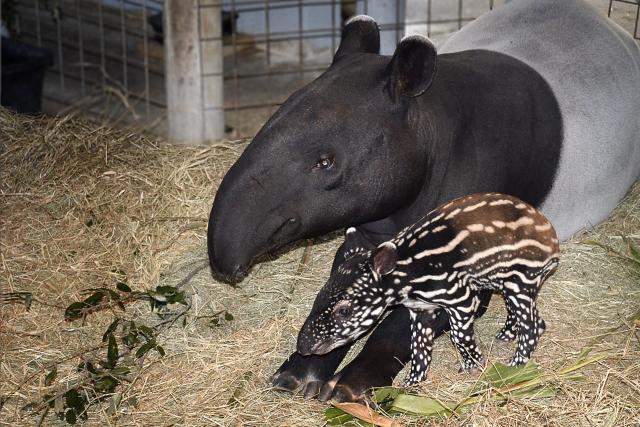 Hi everyone.  Travis back with another update about one of the best Tampa Bay attractions - Tampa's Lowry Park Zoo.  Now, they have had some great babies born over the years, but this one is pretty cute, AND, it's the first one of the new year! 
In the quiet hours that followed the Zoo's New Year's Eve celebrations, an endangered Malayan tapir gave birth to a female calf before sunrise on New Year's Day, making it the first Zoo baby of the New Year!!!
Upon arriving at the Zoo at 10 p.m. on New Year's Eve for their first nightly check of the expectant animal, zookeepers found all to be quiet in the tapir building. Then following the 2 a.m. check on New Year's Day, keepers were greeted by the tiny tapir who was already clean and dry ( which is a sign that the birth had occurred with enough time for the mother to clean the newborn).  And, the spotted newborn is alert and nursing routinely, both positive signs of health and strength.
For her safety and bonding with mother "Umi," she will remain inside the tapir building under the watchful eye of animal care staff for the time being, and the pair is not expected to be on exhibit for about a month.
Tapir calves are born covered in spots which fade to a solid black and white pattern within six months...take a look at the photo.  This is one cute baby folks!  Infants resemble a watermelon in size and shape. The newborn received her first check up by the Zoo's veterinarian this week where she was discovered to be a female weighing approximately 15 pounds, and is expected to gain about a pound a day (Thank goodness humans don't do that consistently).
Here's a little bit about these animals - The Malayan tapir is among the most primitive herbivores, dating back 20 million years. Closely related to the horse and rhinoceros more than any other species, the tapir has a unique, short trunk, formed by its upper lip and nose to help eat leaves, fruits, and aquatic vegetation. In the wild, tapirs are found in Burma and Thailand within dense forests, usually near water.  There are four species of tapir native to Southeast Asia and in Central and South America, all of which are classified as endangered due to ongoing decline. The Zoo's Malayan tapirs are members of the Association of Zoos and Aquariums (AZA) Tapir Species Survival Plan (SSP). 
So, if you are making plans to visit the zoo in February or March (or beyond), make sure you stop by and say hi to the new addition.  And of course let us know how it was.  We'll see you back here for more Tampa Bay attractions updates, info on great Tampa Bay area events and much more about great things to do in Tampa Bay.