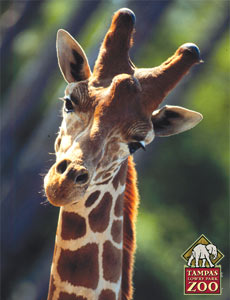 Hello all, Boris the Giraffe here, and I will be taking over the final Twitter trivia question for the day! Jerm had to run out of the office for a bit, so he called me up and asked me to step in for him. Up for grabs this today are 4 passes to come and see me and my other long neck brethren Billie and Randall at
Tampa's Lowry Park Zoo
.
Normally I am still asleep at this early hour of the day, but Jerm gave me a ring on my mobile phone (yes I have one, an IPhone to be exact) and asked me to help him out today. Okay, enough babbly babbly from me, on to today's trivia.
Jerm wanted me to do some trivia regarding our White Tigers over in the
Asian Gardens Exhibit
, but since I am a Giraffe and not a tiger, I am going to take the liberty of being selfish and talk about myself. Okay guys, here goes, today's trivia questions are:
Even though I can outrun them with my long strides and speeds of up to 35 mph, what animal is largely considered my main predator in the wild?
The ancient Romans believed I was a hybrid of a camel and a leopard (which they referred to as

Camelopardalis,") but in actuality, my closest animal relative is what? I will give you a hint... we actually have some here at the zoo, and they are of the "striped" variety. 
Here are the rules again, just in case you forgot...1 - You have to be following us on Twitter.com (
www.VisitTampaBay.com/Twitter
); 2- Answer one question about Tampa's Lowry Park Zoo: 3 - You have to re-tweet the original tweet in order to be eligible to win (a lot of people forget this one, so make sure you re-tweet); and 4 - You have to answer the question on Twitter and be the first to do so. Pretty simple huh!
Okay guys, that should keep you guessing for a while, but I have to go now as I need to  wake Billie and Randall up so we can get our morning yoga exercises out of the way! Stop by and see us when you get a chance, and be sure to bring some crackers as we are always up for a snack!
Jerm should be back next week, but in the mean time check back often for more things to do in Tampa Bay!
P.S. if you haven't already done so, be sure to
get your tickets to Wazoo
, as its going to be one of the most fun Tampa Bay area events in town, so hurry up and get your tickets!