Hi Tampa Bay, anyone looking for something fun to do with the family this weekend? If so, Alex here with some event information for you.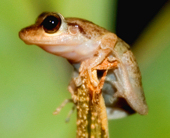 Fiesta Del Coqui is taking place Saturday, November 19, 2-11 at Tampa's Lowry Park Zoo. The event will start at 10 a.m. and end at 2 p.m.
This party will have live music, crafts, activities and food to celebrate Hispanic culture and the tiny frog of Puerto Rico- the Coqui.
All of these fun activities are included with zoo admission.
Enjoy your Saturday at Tampa's Lowry Park Zoo with the family!
Check back with us often for updates on Things To Do in Tampa Bay!