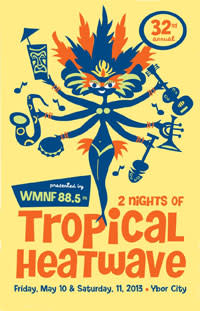 See an incredible lineup of over 60 bands on 10 stages this weekend, May 10-11, as WMNF's 32nd annual Tropical Heatwave takes over Ybor City! Some of the must –sees from this weekend's festival include:
And it doesn't stop at just music; this entertainment extravaganza will feature local artists, fantastic food and handmade crafts lining 9th Ave. in Ybor! If you like discovering new music, art and great food, Tropical Heatwave in Ybor City is the place to be this weekend!
The fun starts tonight, May 10, at 6p.m. with the Saturday festival kicking off at 2 p.m. Hosting venues include Crowbar, CL Space, The Cuban Club, El Pasaje Plaza, New World Brewery, The Ritz Ybor, and The Roosevelt 2.0. Weekend passes are $40 in advance/50$ at the door. Friday passes $20/$30; Saturday passes $30/$40.Click here for tickets and directions. For any further questions contact 813-238-8001.
Stay tuned for more fun things to do this weekend in Tampa Bay, including mother's day brunch!