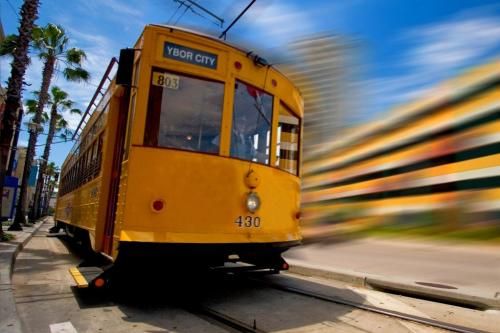 Tampa Bay's TECO Historic Streetcar, which ferries visitors from downtown through the Channel District to Ybor City, will get a financial shot in the arm from the Florida Department of Transportation in the form of a study to look at expanding the line to Tampa Heights.
According to the City of Tampa: 
The study will evaluate how to best extend the route, through downtown and potentially to historic Tampa Heights. The study will address potential ridership data, environmental impacts, and economic development opportunities as well as refine capital and operational costs.  It will also study modernizing the historic system, allowing the streetcar to seamlessly integrate with the unprecedented wave of development downtown. As a next step, the City and FDOT will work together to further clarify the study's primary goals and develop a timeline for completion.
The FDOT has agreed to work with the city and CSX railroad to ensure safe crossing of working railroad tracks that run through downtown. The streetcar already crosses an active CSX line on its way to Ybor City.
Paul Steinman, chief of the Tampa Bay FDOT district said: "I share the belief that a strategic extension of the streetcar would support the continued growth and redevelopment within Tampa's urban core. We are hopeful about the potential and feasibility for the project, and we look forward to continuing the strong partnerships we have with the city and [Hillsborough] County."
FDOT's funding will be available in July, the start of the state's 2016 budget year. The City of Tampa will provide $250,000 in matching funds.
The TECO Historic Streetcar began operating nearly 15 years ago. Today, nine cars -- some restored, some replicas -- run the route between downtown and the city's historic Latin Quarter. Along the way, the line passes through the city's convention district, provides access to Channelside Bay Plaza, the Port of Tampa cruise ship terminal, and The Florida Aquarium.