Hello there folks, Jerm here! Got another great
Groupon
deal for you today! For $14, today's deal gets you a sideline ticket (a $29.75 total value including ticketing fee) to a
Tampa Bay Rowdies
home soccer game. Choose from these two games:
    Thursday, July 15, 2010 at 7:30 p.m. vs. the Puerto Rico Islanders
    Thursday, July 22, 2010, at 7:30 p.m. vs. the Rochester Rhinos
FC Tampa Bay opens up the regular season this weekend at Al Lang Park vs the Montreal Impact, so if you haven't already then be sure to log on and get your tickets for this match! I am predicting a 2-1 opening season win for our Rowdies, so be sure to get out and show them all the love and support this weekend! I am also going to predict tht fellow UT alum Pascal Millen will get both goals for FC Tampa Bay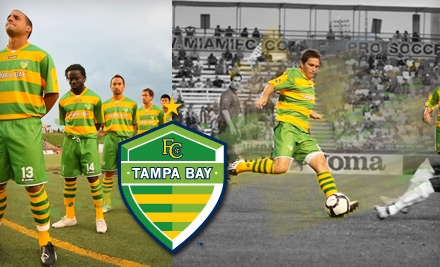 Those of you that would like to learn more about Groupon, just check out the site at
Groupon Works
.
If you or your business are located here in Tampa Bay and interested to learn more about making Groupon work for you, just contact our awesome local Groupon rep Jessica Dwyer at
jdwyer@groupon.com
!
That's all for now folks, but stay update to date with us as we send you more info about Tampa Bay Sports and other updates on things to do in Tampa Bay!