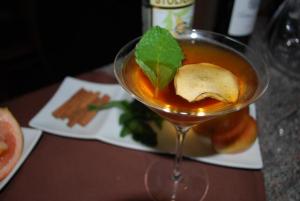 We were invited to a delectable tasting of Carmel Café & Wine Bar's new fall menu, and let's just say you MUST try these new dishes!
We sampled each seasonally-inspired dish, starting with the Arancini – delicious and slightly spicy fried rice balls filled with parmesan, fontina and asiago cheeses. We then moved onto the Bacon & Artichoke Flatbread with aged provolone cheese and sundried tomato aioli. The flavors blended beautifully! This dish is perfect for flatbread lovers and a great shareable plate. 
Our unexpected personal favorite was the Butternut Squash Soup served with a dollop of crème fraiche - the only way I could have enjoyed it more is if it was actually cold outside. This savory soup makes you feel warm and cozy for fall and has amazing flavor.
The main dishes were up next, starting with the flavors of autumn in the Pumpkin Ravioli. Served with toasted walnuts and sage cream sauce, this was another personal favorite – I couldn't leave any left on the plate!  Other main dishes included the Bolognese served with smoked red pepper pappardelle to give it a little kick, and shaved grana padano; Seared Tuna served with a red wine reduction, wilted kale (a table favorite) and vegetable cous cous; and another favorite of mine, the Filet Medallions with Portabella Mushroom. I'm a big steak fan, and this one was served with port reduction, cauliflower mash made 100 percent with cauliflower and haricot verts – which are basically really good green beans. Carmel Café makes it easy to eat healthy with sizeable portions and also really enjoy the flavors and dishes. 
We ended with a great dessert for cool weather – the Warm Poached Pear served with house made Salted Carmel sauce and vanilla ice cream – a perfect fall "pear-ing!"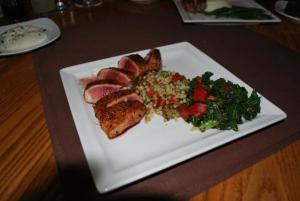 Let's not forget the fall-inspired cocktails! We tasted the Grapefruit Basil Twist made with Hendrick's Gin, fresh grapefruit, basil and lemon, and it was a perfect mix! Not too strong with a nice combination of flavors. Another table (and personal) favorite was the Apple Pie Martini made with cinnamon apple tea, Stoli Vanilla, toasted apple slices and mint. Now, I'm not a huge fan of martinis, but this one was to die for! Talk about celebrating the holidays with the perfect cocktail.
If you're looking for a relaxed and fun atmosphere with unforgettable dishes, hand-crafted cocktails and wine – Carmel Café is the perfect choice to satisfy your palette.   

Stay tuned for more ways to unlock the dining scene in Tampa Bay!
- Leah Saunders