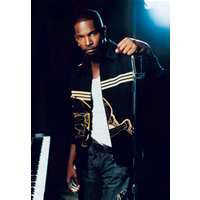 Travis here with some great news...it's GIVEAWAY time!!!!!!  That's right, we are back with more stuff to give away, thanks to our friends at the Tampa Bay Performing Arts Center! 

Our Facebook giveaway will be tomorrow at 11am on the Visit Tampa Bay facebook page - www.facebook.com/Visittampabay. 

This time, we have two (2) tickets to see Jamie Foxx on his Blame It Tour on Monday, August 31 (yep, that's this coming Monday). 

Here's the background on the show - Jamie Foxx, the triple threat, takes the stage on his 50-city Blame It Tour. After continuation of a busy movie career and the release of his chart-topping CD Intuition, Academy Award® winner Foxx comes to Tampa for an evening of live music.

Intuition was released on Dec. 16, 2008, and debuted at No. 3 on the Billboard 200 chart. The first single off the album, "She Got Her Own," rose to No. 2 on the Billboard Hot R&B/Hip-Hop Chart. The second single, "Blame It," hit No. 1 on the Billboard Hot R&B/Hip-Hop Chart. Intuition also features an impressive list of artists such as T.I., Lil Wayne, Kanye West and Ne-Yo.

And there's more on the Performing Arts Center website, www.tbpac.org, if you want to check it out. 

But, the contest will be 11am tomorrow, and as always, all you have to do is be a fan of the Visit Tampa Bay facebook page, and be one of the first 10 people to respond with the correct answer to the trivia question for a chance to win the 2 tickets. 

So, make sure you are there tomorrow at 11am and ready to answer 1 question!  See you then...

And be sure to keep checking back here for more great things to do in Tampa Bay.  We'll keep bringing you the best Tampa Bay entertainment out there.