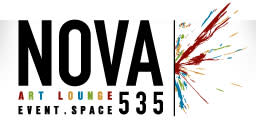 Good eventing folks! Wanted to drop by and tell you a little about one of the most awesome meeting and event spaces in the Tampa Bay area!
Located in downtown St. Petersburg, NOVA 535 is modern art gallery meets swanky lounge and world-class event venue. 
It is a meticulously renovated building with original 1920 red clay block and brick walls.  This venue is an awesome place to hold your next event!

NOVA 535 features the Main Gallery, upstairs VIP areas, antique brick courtyard with bamboo garden and not to mention all of the high-end amenities that they offer.  

This 7,000 square foot venue is the perfect location for the smallest of events up to your next party for 800 of your closest friends.  Have a favorite caterer?  No problem - NOVA 535 allows outside catering!  

What about accolades you ask?  NOVA 535 has won many awards, but most notably "Voted Best Place to Get Married" by Creative Loafing and "Top 10 Best Restrooms in America" by Cintas Corporation.  Those are some pretty cool honors if I do say so myself!  

For additional information call (727) 821-6682 or visit www.NOVA535.com. That's all for now, but stay tuned in for more updates on Tampa Bay meetings space!