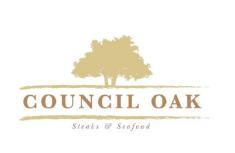 Hey Tampa! Kristin here to tell you about the exquisite cuisine being served up at Council Oak Steaks & Seafood! Located in the Seminole Hard Rock Hotel & Casino. Come out and experience the fine dining ambiance of Council Oak, named after the ancestral oak tree where the Seminole leaders would meet to discuss tribe affairs. 
Council Oak specializes in the finest USDA steaks and seafood, all of the top end meat coming from their very own butcher shop and seafood from local waters. Maine Lobster is also a signature feature.
In addition to the extensive menu offered, there are over 300 wines to choose from the intimate wine bar. This local gem has been rated highly by Zagat, as well as one of the "2011 Hot 10 Tampa Bay Restaurants" by Gayot, The Guide to the Good Life. The restaurant has also been awarded the Award of Excellence by the Wine Spectator Magazine.
Check out this sneak peak of some their signature dishes on the menu!
Appetizers:
Steak Tartare made from chopped USDA prime beef with traditional seasoning ($12.50)
Sea Scallops seared and topped with lemon and pomegranate ($14)
Stuffed Clams ($10.50)
Main dishes:
Dry Aged Lamb Chops ($50), Filet Mignon ($39)
Grilled Free Range Chicken ($25)
Dessert:
Crème Brulee with fresh berries marinated in Grand Mariner
Council Oak 151 Volcano is made up of vanilla ice cream covered with Heath Bar Crunch flambéed tableside with a shot of 151 Rum
All new cocktails:
Martinis feature a choice of nine differently-stuffed olives (examples: Chipotle pepper, Feta cheese and rosemary)
Come out to Council Oak, and enjoy this fine dining experience! That's all for now, but stay tuned in for more Tampa Bay dining and foodie related updates!