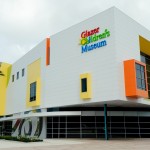 Hi gang, Jerm back here with another update for you guys! Those folks over at the Glazer Children's Museum just keep putting on amazing events!
When you think of your holiday tradition, what comes to mind: decorations…family…gifts? For most people, food is an important part of their holiday celebration.
Join the museum and other guests as they share traditional foods and crafts from around the world and explore the role they play in celebration.
Watch as chefs demonstrate how to make a traditional dish from around the world. Taste a sample then take home a recipe card for your collection!
Please Note: Space is limited per program. No reservations. Guests should meet in the World Kitchen several minutes prior to the program to ensure their space.
Where
World Kitchen in 'My House Your House' gallery, second floor.
When
Dec 18th through January 2nd, daily.
          Mon – Fri: 11:00, 1:00
          Saturdays: 11:00, 1:00, 4:00
          Sundays: 1:30, 4:00
That's all for now folks, but for more information, visit
www.GlazerMuseum.org
or call 813-443-FUN1(3861). Stay tuned in for ore info on Downtown Tampa Florida attractions and Tampa Bay area events!