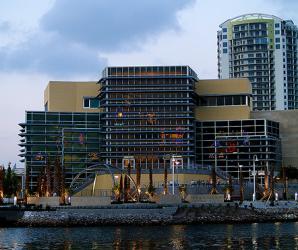 Hi everyone, Jessica here to tell you about two interesting Tampa Bay Area Events!  The recently opened Tampa Bay History Center is hosting some neat events on Father's Day weekend...
The first is a book signing by author John V. Cinchett.  Mr. Cinchett recently released a one of a kind pictorial collection of 200 historic Tampa photos of the 1950s that have never been seen before. 
Vintage Tampa Signs and Scenes 
sounds like a unique peice of work and here's your chance to go home with your own signed copy!  This event will be taking place on Saturday, June 20th from 12:00pm- 4:00pm at the Tampa Bay History Center Museum Store.  What's even better?? Admission to the Museum Store is FREE.
But, that's not it... The Tampa Bay History Center is also hosting its next lecture in the Florida Conversations Series the following day, Sunday June 21st at 3:00pm.  The lecture features author Martin Dyckman whose topic is "What's all this Fuss About an Independent Florida Judiciary?"  Mr. Dyckman is a former investigator, editorial writer, and columnist with the
St. Petersburg Times
.  Hears more great news also... The Florida Conversations are free and open to the public. But hurry because seating is limited and reservations are required. To RSVP call 813.228.0097.
Of all the things to do in Tampa Bay, the History Center could be a great way to celebrate Father's Day and talk a walk through 20,000 years of powerful history.  To learn more about this fascinating venue visit
The new 60,000-square-foot Tampa Bay History Center in Tampa's bustling Channelside District takes an illuminating walk through 12,000 years of powerful stories. The Center features the first native inhabitants, Spanish conquistadors, pioneers, sports legends, a 1920s-era cigar store, interactive maps, and exhibits that feature a rich ethnic heritage and adventurous spirit that has inspired generations. The four-floor Center boasts a visually captivating atrium, a theater, map center, library, event hall, museum store and the Columbia Café.