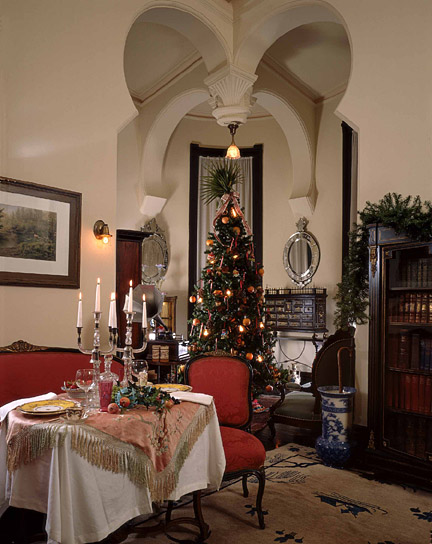 Hello Tampa, Melissa here. Halloween is over and Thanksgiving is approaching and you know what that means: Christmas is just around the corner. If there's one thing Tampa knows about, it's tradition! This holiday season visit the
Henry B. Plant Museum
for their
Victorian Christmas Stroll
and experience an old fashioned holiday.
Nothing captures the spirit of the season like former Tampa Bay Hotel's Moorish architecture and shiny minarets. There will be 14 exhibit rooms, all decorated 19th century, Victorian style.
The Victorian Christmas Stroll is a treat for anyone interested in history, but it is also a family friendly event. This year in particular there will a game for kids, and all the kids at heart. Participate in, "Where's Henry?" In this game, pictures of Henry B. Plant will be placed in each room. If you can locate the image in every room, you win a prize!
The strolls take place from December 1st to 23rd, 2010, 10:00 am to 8:00 pm daily.On December 23rd, from 10 am to 1 pm Santa Claus is coming to the Victorian Christmas Stroll, sitting in the authentic Writing and Reading Room of the Tampa Bay Hotel and listen to children's requests. Santa will also be on the veranda Saturday, December 4th to listen to children's wishes.

Throughout the holiday season, complimentary spiced cider and cookies are served on the veranda during the day, and as night falls, carolers will perform music..And you are even invited to join them.

Admission is as follows:

$12 for adults

$10 seniors

$6 youths (4-18years)

Discount Days are December 6, 7,13, and 14 when admissions are reduced to $8 adults, $7 seniors, and $4 youths. Group tours are welcome: please make reservations for parties of 20 or more with Sally Shifke, Museum Relations Coordinator, (813) 258-7302.

All this info, plus more can be found on their site. Don't forget to keep checking back here for more about the great Tampa Bay Area events from me and the team.