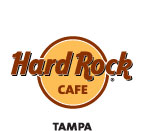 Hello there all! Jerm here with an update for you from one of Tampa Bay's premier Tampa Bay nightlife & entertainment spots!
Hard Rock Cafe
  and Hard Rock@Nite is a one-of-a-kind nightlife experience that rocks with unmatched live music, entertainment and the hottest gaming action. When you are here, expect to unwind, relax, mix and mingle amidst authentic rock 'n roll in an unparalleled experience. 
Enjoy Happy Hours Monday – Friday from 4 p.m. – 7 p.m., live entertainment Wednesday– Sunday starting at 9 p.m., the Hard Rock Girl Blackjack Pit featuring Tampa's most sizzling and sexy dealers Wednesday – Sunday from 6 p.m. – 2 a.m. and live DJ mash-ups 'til 4 a.m. on Thursday, Friday and Saturday nights.
If you are like me and may have the sudden urge to get your rock on even later, Thursday features a Happy Hour after midnight with great $3-$5 drink specials.
It's a party...It's a party...It's a party five nights a week at The Hard Rock Cafe folks, so be sure to add this to your evening events schedule... I know I will!
That's all for now, but check back with us for more updates on nightlife related Tampa Bay area events and such!