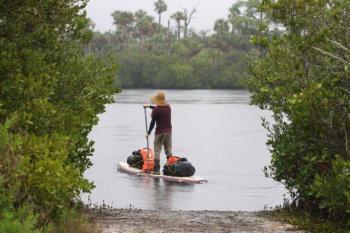 Please join me in supporting Mother Ocean and Expedition Florida 500 (XF500) this weekend to support Tampa Bay's waterways and coastline by attending one of their upcoming events (see attached). 
XF500 is a modern-day exploration of Florida's coastline, waterways, and aquatic ecosystem as seen through the eyes of the waterman. 2013 is Florida's 500th anniversary since Ponce de Leon landed on Florida's coastline back in 1513; in celebration of this momentous occasion, organizations will unite to embark on a yearlong journey combining the best of exploration, adventure, stewardship, science, and sport into a package that will include the full gamut of the waterman's lifestyle.  The expedition's primary goal is to highlight the importance of stewardship efforts as they relate to the ocean, coastlines, waterways, and the marine ecosystem. Florida is unique in that it embodies the entire aquatic ecosystem from source to sea – one of the few places on Earth with such a vast array of thriving wildlife and a natural environment based around water.
XF500's waterman Justin Riney will be in the Tampa Bay area this weekend and is seeking support from our community to attend the events and stand up for Florida's waters!   There is an Ocean Hour Clean Up on Saturday, March 2nd from 9-10am at Weedon Island Preserve followed by Archaeology Day with Team XF500 also at Weedon Island.  On Sunday, March 3rd at 3:30pm, you can join Team XF500 for a paddle from Davis Islands Basin.  At 4:30pm on Sunday, the flotilla of paddlers will make a grand entrance to the Florida Wildlife Corridor film premiere at the Tampa Bay History Center featuring Tampa Bay's very own Carlton Ward Jr.  If you are unable to paddle, please come to Cotanchobee Park at 4:30pm to meet Team XF500 before the Florida Wildlife Corridor premiere. 
Hope you're able to join XF500 for this great cause and please help spread the word!