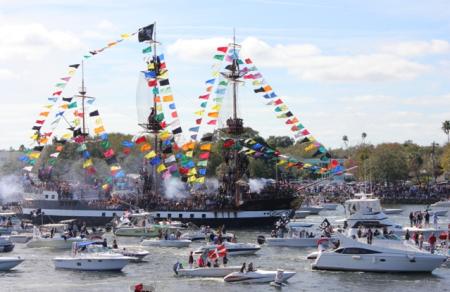 Whether you are an Old Salt (experienced sailor) or a first time Seadog, this weekend in Tampa Bay is going to be a ton of fun!  Having fun means being an expert on the rules… parade details…. and knowing the scene on Gasparilla day.
Below you will find some important information that will make your Gasparilla a success!
Fashion FIRST: Check out our fashion feature blog about tredny shops in Hyde Park Village featuring what to wear, what not to wear and what's HOT! Trendy Gasparilla garb for last minute Landlubbers.
Don't even think about …
Bringing alcohol containers in and around the neighborhoods around Bayshore Boulevard.
Drinking if you are under 21 years old.  There is ZERO-Tolerance for underage drinking! Keep your ID handy the Tampa Police; including under-covers will card you if they are suspicious.
Bringing weapons, leave them at home! The costume plastic swords and daggers are okay.
Flashing your intimate body parts for beads.  Come on folks, let's keep it classy and no one wants to see that.
Peeing in public.  Unfortunately, we had to say it….  There will be public portalets available around the route to use.
Bringing or using drugs.  This should be obvious.
Bringing Glass containers (City Ordinance) or any kind of Styrofoam cups or drink containers.  This also includes coolers (small soft-sided coolers are only allowed for a person with medical needs).
Bringing your pets.  Leave Fido at home, he will not want to be surrounded by  500,000 people.
Driving your car on or near Bayshore Boulevard tomorrow.  It will get towed.
Drinking and driving…
Littering! Keep our Bayshore beautiful and clean for everyone to enjoy!
For a full list of rules and FAQ's visit the Gasprilla Pirate Fest website.
Hip Tips
Try parking in Ybor City and hop aboard the streetcar.  That will drop you off at Greco Plaza, next to the Tampa Convention Center where all the Gasparilla festivities are taking place.
Pirates can wet their whistle and purchase alcohol along the parade route.  Beer along with Captain Morgan Rum and cola is for sale and can be purchased throughout the Gasparilla Charity Beer Garden locations.  You must have a valid photo ID proving you are 21+.
For information regarding parking, transportation and disabled parking please visit the Gasparilla Pirate Fest Parking Page which also features a handy reference map.  The TECO Line Streetcar, Hart Bus Service and the In-Town Trolley will all be available.