Lisa here, with a great adventure from one of our most unique partners.
This past weekend (Sunday) I went to Discovery Cove in Orlando to experience the one of a kind resort. I did so many things, and had so much fun, I'm not sure I can fit it all into one blog! I will give you a quick synopsis of what I did and try to convey the awesome time I had.
The morning started out with a quick and courteous registration. After that, we headed to a lovely continental breakfast complete with coffee (great for the addicts like me! Plus it was rather chilly). Next, was getting our wet suits, snorkels and lockers. All of this was done with the greatest of ease, and again the help of a wonderful staff.
After changing into our (my friend Nichole and I) wetsuits (that's always a delight), we grabbed our snorkels and headed off to the reef. The reef is AMAZING. It has rays, fish, a "shipwreck" and tons of neat things to see. We spent about an hour (maybe more) just looking at all of the sweet marine life. It is literally like you are in the ocean. I do recommend if you aren't used to snorkeling, (like myself) to take a minute to get used to the water temperature, and practice before you set off and can't touch the bottom. I also recommend getting some sort of waterproof camera, (They do sell disposables at the resort for your convenience) because you won't want to miss the Spotted Eagle Ray.
Once we were done with the reef (though we could have spent much more time there) we headed over to serenity bay. Because of the air temperature the bay felt amazing. The water temperature was 85, perfect for the day. Little did we know how much we would love this part. Serenity Bay is attached to the wind away river. And the river goes through the aviary (where birds are flying overhead), past white sandy beaches, and plush foliage.  The cool thing about this Bay and river is that there is a natural current t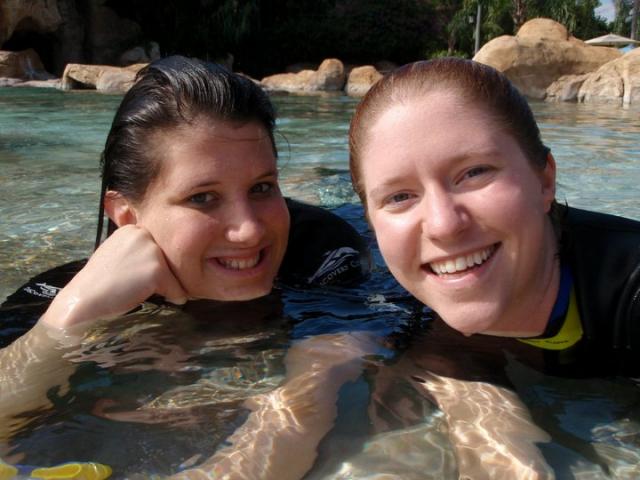 o help you enjoy the scenery without much work at all. Plus the water is crystal clear, making it perfect to enjoy everything that is going on around you.
We had to be at the dolphin swim around 11:45 so we dried off after our float down the river and grabbed some delicious snacks from one of the many snack bars. After a quick snack, we headed over to learn about our swim with the dolphins. A quick video intro, and a few instructions later, we are petting Jenny the dolphin. I hate to give a lot of this away, but Jenny was amazing, and so were the trainers. Everyone we interacted with has such an amazingly contagious passion for animals that you can't help but be overwhelmed by the experience.
Lunch was the next thing on our list of "To-Do's." We ate a great meal, enjoyed a few drinks, and then went over to hang out with the sting rays. Yes, I said sting rays. They have a sting ray interaction where you can go and "pet" them (they can't hurt you I promise). That turned out to be one of my favorite parts of the day (ok really I loved the whole thing). We somehow managed to get there right before feeding time, and we even got to feed them!
Once finished with the rays, we went back to the river for one more go, and then showered and changed. They provide towels, shampoo, conditioner, changing rooms, wet swim suit bags, and even hairdryers! (but don't forget your brush like I did) The last thing we did was go feed the birds in the aviary. One even landed on my shoulder, and I fed it live worms!
Overall, Discovery Cove is amazing. The staff and the atmosphere are phenomenal making it a great place for a vacation, or a staycation. They offer Florida and Georgia
resident discounts
, and they are opening a
Grand Reef in 2011
that sounds awesome. It's a super cool way to enjoy Tampa Florida Weather, without having to go very far. And since everything is included in the cost of admission it makes it that much better. Even if you decide not to swim with a dolphin, I assure you that it is well worth the trip.
That's all for now, keep checking in for more Tampa Florida News updates!