Leave it to Busch Gardens of Tampa Bay to find a fun and exciting way to announce one of the newest members of the Serengeti!
Meet "?" , a baby white female rhinoceros born on Tuesday, October 23, 2012 on the 26-acre white rhino habitat on Busch Gardens' Serengeti Plain.  Weighing around 140 pounds at the time of birth, the newborn will gain approximately four pounds each day until it reaches an adult weight of approximately 3,500 to 4,000 pounds.  That's a big baby….
Well, here is your chance to help naming this beautiful baby.  All you have to do is "like" the Busch Gardens Facebook Page (www.facebook.com/buschgardenstampabay) and vote for your favorite name.  The polls will close tomorrow, Friday November 7 and the winning name will be announced on Saturday, November 8.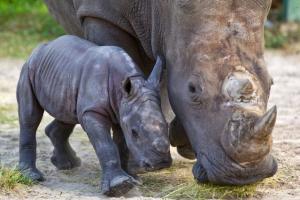 Bahati, meaning luck or success
Jasiri, which means brave and bold
Safiri, which means traveler
Sabab, which refers to her being the seventh white rhino born at Busch Gardens
If you are not interested in naming the baby white rhino you can still check out the very inquisitive baby rhino photos and learn about the baby's progress from her keepers on the Busch Gardens Blog.
I casted my vote, now it's your turn Tampa Bay.  In the meantime stay tuned for more of what's happening at some of our favorite attractions right here in Tampa Bay!
Cheers Tampa Bay!