So I get emails all the time with people asking me to submit stuff to our calender of events, and as much as I try to get everything up there, its not always possible. But if you know anything about Jerm by now, you would know that he is always using the old noodle and trying to think of new ways to bring you guys the things you want to see on our website.
With there being so many things to do in Tampa Bay, from arts & culture, to Tamap Bay area beaches, to sightseeing in Ybor City, we get tons of requests for evnets and such.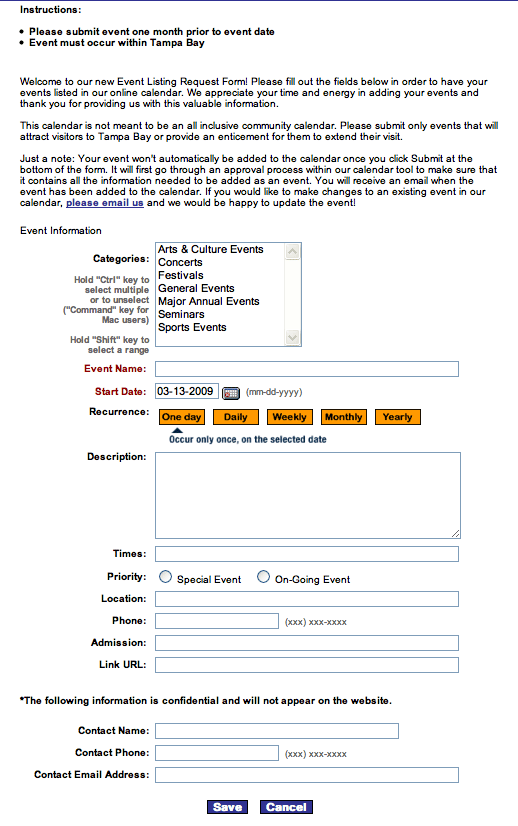 So having given that great segue, I wanted to let you know that we are in the process of updating the Calendar so that you, yes you John Q. User can submit Tampa Bay area events to the calendar on your own. Now of course there will guidelines to follow when submitting an event:
Please only submit events that will bring visitors to Tampa Bay, or entice current visitors to stay longer.
Your submissions will not automatically be posted to the calendar. They will be sent for our approval first, then either approved or declined.
Upon approval or denial, you will be sent an email regarding your submission, whether it made it to the calendar or not.
Please be patient, as we will be approving allot of these, so you may not hear from us immediately after your submission, please give 24-48 hours for turn-around.
This update should be good to go by Monday, so line up your events and get ready to submit. Again another great example of how Jerm takes care of you guys! Stay tuned form more updates from Jerm!