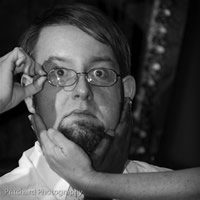 Hi everyone!  Travis back with more great things to do in Tampa Bay...well, things to do at the David A. Straz Center for the Performing Arts! 
This time, Jobsite Theater presents, What the Butler Saw, playing at the Shimberg Playhouse.  It's playing from January 6 - 24, 2010, so you have some time to make your plans to see this cool show. 
About the show: The premiere of Orton's final play – produced almost two years after his death at the hands of his lover – sent shockwaves through London audiences, who were scandalized by its lewd humor and madcap energy but who still could not deny his work anything other than drop-dead funny.
Wild, risqué and ferociously playful, Orton's uproarious farce is one of the seminal works of modern comedy. When psychiatrist Dr. Prentice tries to seduce an aspiring secretary, his botched efforts leads to comic bedlam involving his insatiable wife, a randy bellhop, a befuddled police officer, and ultimately, the formidable manhood of Sir Winston Churchill. For more information, visit jobsitetheater.org.
Just as in FYI, it contains adult language, situations and subject matter. But take a look at this review from the New York Times: 
"Hilarious, outrageous ... toying with words as if they were firecrackers … the ending is a delight that Oscar Wilde might have dreamed up in a sequel to "The Importance of Being Earnest."
Pretty cool, right?  Well, regularly priced tickets start at $24.50; $10 for preview on Jan. 6!  As always, just visit www.tbpac.org if you want more info. 
And of course, keep checking back here for more Tampa Bay area events, and cool Tampa Bay entertainment options.