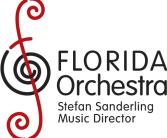 Good afternoon Tampa Bay, is anyone looking for a great way to enjoy Tampa Bay's beautiful weather this weekend? If so, Alex here with information on an outdoor concert just for you!

The Florida Orchestra will perform two free Pops in the Park Concerts in the Tampa Bay Area on Saturday, October 22, at 7:00 pm at Vinoy Park in St. Petersburg, and Sunday, October 23, at 7 pm at Compton Park Park in New Tampa. 

For both concerts, guest conductor Daniel Boico leads The Florida Orchestra in a varied program of symphonic and pop favorites, including Dvorak's Slavonic Dance No. 2, Brahms' Hungarian Dance No. 1, a waltz from Tchaikovsky's Sleeping Beauty, overtures and polkas by Johann Strauss, Jr., The Rainbow Connection from The Muppet Movie,  John Williams' Superman March, selections from Richard Rodger's The King and I and Tchaikovsky's explosive 1812 Overture.

At the Vinoy Park concert, the evening will conclude with fireworks.

The concert at Vinoy Park will have a pre-concert performance starting at 5:45 pm by two young soloists from VSA Florida. They are 15-year-old vocalist Lyudmilla Fuentes, a 9th grade engineering student at Central Florida Aerospace Academy, and 17-year-old pianist Victor Merriam of Clearwater High School.

Attendees may bring their own picnic dinners to the concerts or purchase food from food vendors at the parks

(At both concerts, attendees are invited to make canned food donations to Tampa Bay Harvest's food bank services in the Tampa Bay Area. So help out your community by bringing a couple canned goods!)

For concert information, call 727.892.3337 or 1.800.662.7286, or visit www.floridaorchestra.org.

Enjoy weekend outdoors at these concerts! Check back with us for updates on Things To Do in Tampa Bay and for more information on Tampa Bay Arts and Culture.