Hey everyone!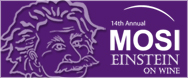 Looking for something fun and unique to do this weekend? Well, MOSI can certainly provide that for you on Saturday, February 21. From 6-9 p.m., the museum is bringing the flair of Mardi Gras to Tampa Bay residents during its 14th annual food and wine tasting event, "Einstein on Wine."  The Mardi Gras-themed event combines wine, food, music, and a silent auction in a fundraising event for all to enjoy. Who would want to miss that?!
Tampa Bay vintners and restaurants will offer tastings on a variety of wines and the proceeds benefit various MOSI education programs.  Einstein on Wine is $60 for MOSI members and $70 for non members. VIP tickets are available for $120. Tickets are $80 the day of the event. This year's VIP guests can enjoy a special selection of wine and food inside the VIP area—MOSI's newest permanent exhibition,
The Amazing You
.
What more could you ask for things to do in Tampa Bay? Get your tickets now before it's too late!
See you at MOSI! Enjoy!
~Cheers