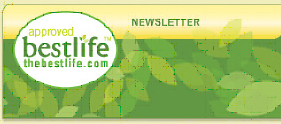 Hey gang!  Travis back with some great tips for eating healthy on the go this summer, courtesy of TheBestLife.com.  Take a look -

Come summertime, many of us will hit the road for long-anticipated vacations. Whether you're traveling by car or plane, the grab-and-go dining options you'll encounter along the way have the potential to derail your diet. No sweat—we've got you covered with these healthy orders.

Applebee's. Opt for the grilled chicken sandwich and instead of fries, order a small house salad or a cup of the soup of the day.

McDonald's. Try the Southwest Salad with Grilled Chicken served with half a packet of Newman's Own Low-Fat Balsamic Vinaigrette and a small Fruit-and-Yogurt Parfait without granola.

Perkins. Go for the chicken noodle soup, a fresh fruit cup, salad, steamed broccoli, corn and applesauce.

Subway. Order a six-inch Oven Roasted Chicken Breast Sandwich on Wheat Bread with Provolone and all the veggies you want. Top it with mustard, vinegar with a dash of oil or fat-free honey mustard, and have a package of apple slices on the side.

Taco Bell. Ask for Fresco style, which basically means the meal comes with a light Pico de Gallo salsa and no sour cream or cheese.

TGI Friday's. This huge menu has lots of healthy choices—just steer clear of creamy sauces and "crispy" anything. Light sides include carrots with ranch dressing, salad or mandarin oranges.

Wendy's. Skip the burger, shake and fries and stick to picks like a Small Chili, half of a plain Baked Potato and a Side Salad with half of a packet of Italian Vinaigrette.

And there you go folks...great ways not to fall off the diet for summer trips!  If you have others, let us know.  We'll be back with more options on where to eat and have a great time in Tampa. 

See you next time with more ways to enjoy you summertime in Tampa Bay, as well as with updates on great things to do in Tampa Bay!