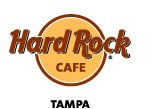 Hola folks! Hope everyone had a great weekend, and is looking forward to the week!
Now I have been to the Hard Rock Cafe at the
Seminole Hard Rock Hotel & Casino
plenty of times for some of their awesome happy hours and other after hours events, but had never actually had the chance to sit down and get my grub on!
Boy was I missing a treat... as this classic American fare food menu is one that you surely will not want to miss! As the gang at the Cafe will tell ya, this is truly the only place where burgers, blackjack and bands come together.
Be sure to bring a friend with you when you go, as if you are like me, your eyes will be bigger than your stomach and you will want to order everything off of this
amazing menu
!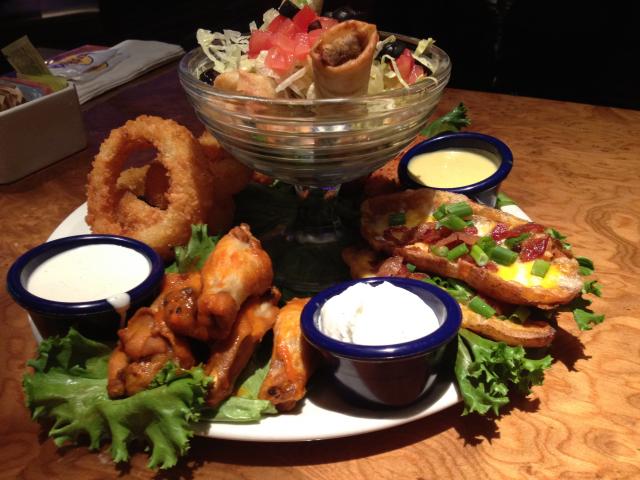 For starters, you have so much to choose from that it can be pleasantly overwhelming, so what we did was to order the Jumbo Combo.
This bad boy is the holy grail of appetizer samplers. Imagine an awesome spread of the delectable starters that's big enough to share that includes Santa Fe Spring Rolls, Hickory-Smoked Chicken Wings,
Onion Rings, Potato Skins and Tupelo Chicken Tenders. Served with four different sauces for mixing and matching. If you don't believe me, see the photo to your right.
Again I said be sure to bring a friend, because unless you have a bottomless pit of a stomach, you won't be able to finish this one on your own, although I did give it the ol college try!
Now onward it was to trying to decide what to have for the entree, which was not an easy decision to make given all the options you have. You've got your pick of sandwiches, burgers, smokehouse, or some awesome Italian menu items from famous
Chef Steve Martorano's
.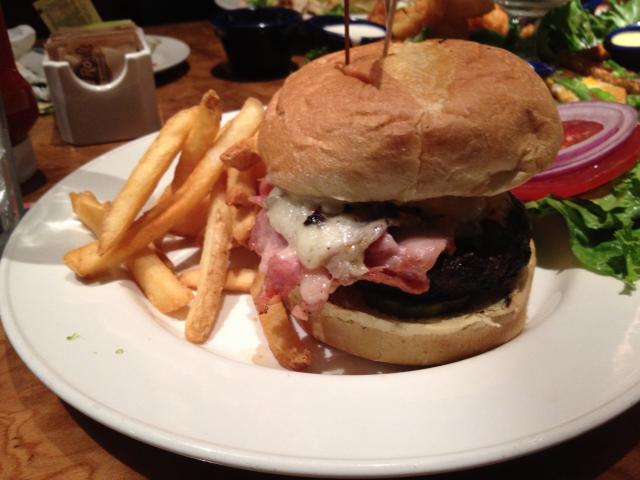 At the end of the day I decided to go with a burger, but with a little bit of Tampa flavor, so I went with the "Local LEgendary" aka "1880 Ybor City Burger" which if you can imagine it, is a redunkulously large burger topped with roasted Mojo Pork, sliced ham and melted Swiss cheese with just the right amount of pickles and mustard on a toasted bun.
Yeah you heard that right, a burger topped with mojo pork, ham and swiss cheese! Add some fries to it, and you have yourself a meal folks.
My friend who was with me decided to go with the Haystack Chicken Salad. This Hard Rock special combines fresh mixed greens, carrots, corn, diced tomatoes, pico de gallo and shredded cheese topped with Tupelo fried chicken or a grilled chicken breast. Tossed with ranch dressing and topped with spiced pecans and crisp tortilla straws.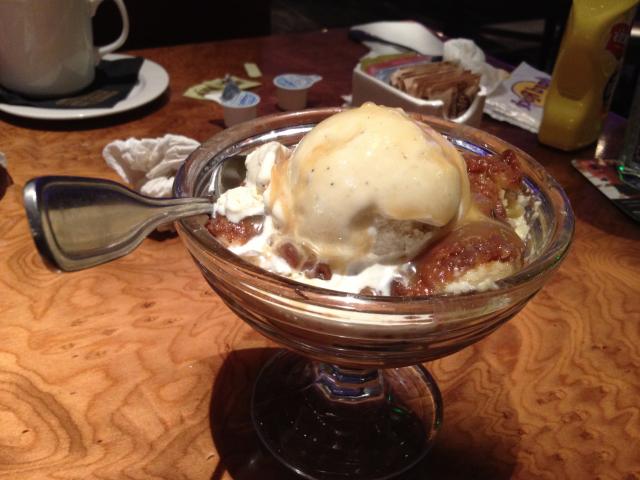 Now after that, even though I was struggling to sit-up straight with all of this food, I somehow was talked into dessert by our awesome waitress Avery. I need to send her some flowers for recommending the Apple Cobbler to me, as it was delicious.
I am from the deep south, and definitely know my cobbler, so believe me when I say this one is the real deal folks. Possibly in fact, the best apple cobbler I have ever had. Imagine A country favorite, served warm with Ben & Jerry's vanilla ice cream, topped with walnuts and caramel sauce. That description doesn't even do it justice folks...
Truly a great experience folks, and I highly recommend you stop by and give it a try, as in addition to the food, you also have the great all-round atmosphere with rock memorabilia on display! Oh and don't let me forget the extensive
drink menu
, and if you are in the mood for some grub late night, their is even a
special menu
for you late night owls!
Well folks that's it for now, but be sure to check out the Hard Rock Cafe, and also stay tuned in for more Rockin' updates on Tampa Bay nightlife and things to do in Tampa Bay!