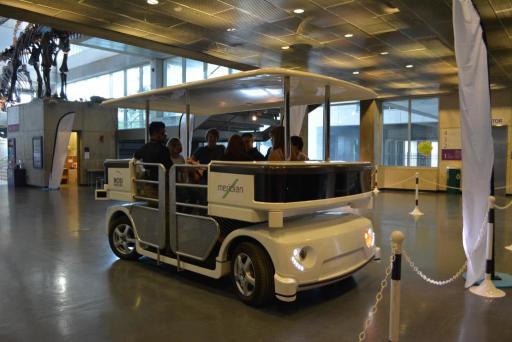 Tampa's Museum of Science and Industry (MOSI) rolled out its driverless car exhibit to some VIPs on Thursday ahead of the official Saturday opening to the public.
As such, we got a sneak peek at first-of-its-kind exhibit. The Meridian Shuttle is 100 percent driverless, 100 percent electric, and will now greet visitors in the MOSI lobby. The museum says while other institutions have demonstrated similar autonomous technology in isolated areas, this is the first time in the U.S. such technology will interact with guests. (TL;DR Yes, you will be able to ride in it)
"This is world-changing technology and it makes sense for it to debut at MOSI, our community's resource for science and technology," said Molly Demeulenaere, President and CEO of MOSI. "By making these new and developing technologies accessible to everyone, MOSI gives its visitors a sneak peek into their not-so-distant future and inspires our next generation of scientists, engineers and inventors to see that anything is possible."
The new exhibit will also allow guests to code robots to navigate mazes in simulated off-world terrains. Beginning July 6, the Drone Zone allow guests to fly, drive and dive commercial drones by land, air and sea (well, under water).
 "There is often a fear surrounding new technologies like autonomous vehicles and drones," said Demeulenaere. "MOSI empowers people to embrace their curiosity regarding these new technologies in a safe and protective environment. These are important conversations happening within the family unit here at MOSI that may not happen in more formal settings."