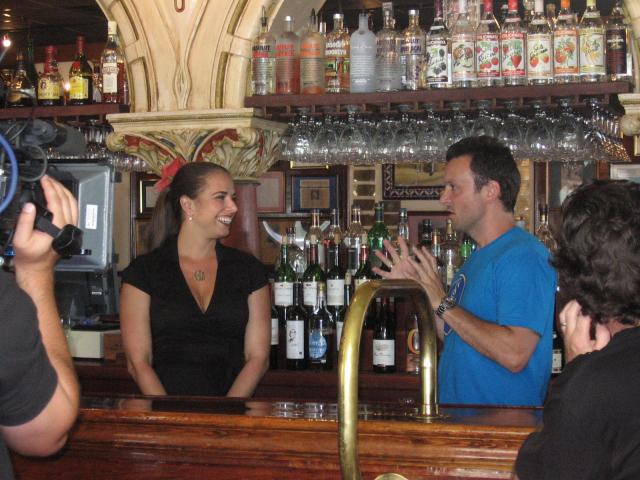 Hey everyone!  Here's some great Tampa Bay Entertainment for you, and you won't even have to leave your house to enjoy it! 

On Wednesday, November 9, "Drinking Made Easy" airs an episode featuring Tampa area establishments.  The Columbia Restaurant of Ybor City welcomed Zane Lamprey and the show's crew as fifth generation family member Andrea Gonzmart demonstrated how to make two of The Columbia's signature drinks, "Bloody Gazpacho" and a "Café con Leche Martini."
I don't know if I'd like either of them, but I would certainly give them a try!!!!  But back to the story...
The show also highlights Tampa's Cigar City Brewing, stops by the first Hooters location for an "Orange Shorts Margarita," and features a "Blue Blazer" at Mandarin Hide. "Drinking Made Easy" airs Wednesday nights at 8:00 p.m. ET on HDNet.
HDNet networks are available nationally via DIRECTV and Dish Network and locally in Tampa, Florida on Knology Holding Inc. and Verizon FiOS. Check your local listings for channels and more information.  Please see http://www.hd.net/programs/drinking-made-easy/  for more information.
Here's a little history on the Columbia Restaurant:
The Columbia is Florida's oldest restaurant, founded in 1905 by Cuban immigrant, Casimiro Hernandez Sr.  The Columbia Restaurant was founded in 1905 in Ybor City and is Florida's Oldest Restaurant.  Additional locations include St. Armands Circle in Sarasota, the Historic District in St. Augustine, The Pier in Downtown St. Petersburg, Sand Key on Clearwater Beach, Central Florida's town of Celebration and the Columbia Café on the Riverwalk in Tampa. All Columbia Restaurants are owned and operated by 4th and 5th generation members of the founding family. Please see www.columbiarestaurant.com for more information.
Enjoy the show, and enjoy the drinks!  And keep checking back here for more great things to do in Tampa Bay!