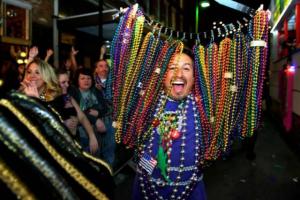 I don't know about you, but I am completely over this dreary winter weather… Good news, rain or shine there is plenty to do here in Tampa Bay this weekend and even through next week.  From stuffing your face with fair food at the Florida State Fair to collecting more beads in Tampa's Historic Latin Quarter in Ybor City for the Knight Parade, there is something going on for everyone.  Hope you have a safe and fun weekend and don't forget to connect with us on social media @VisitTampaBay.  We love seeing Tampa Bay through your eyes, ehhh iphones!  Cheers to the weekend y'all!
Friday: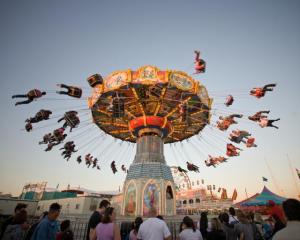 Florida State Fair, Florida State Fairgrounds (Fri through Feb. 17th)
Can you believe it is the 110th anniversary of the Florida State Fair? 110 is the lucky number this year.  With more than 110 rides, 110 free things to do, more food, more exhibits and even fireworks on Friday and Saturday nights there is something for everyone! Foodies, beware… the food this year is nuts! Some new tasty treats worth tweeting about are the: Ramen Noodle Burger, Pigs in the Mud Ice Cream, Maple Bacon Funnel Cake, Cotton Candy Funnel Cake and more.  Also new this year is the Comet II, the largest traveling roller coaster in North America.  I recommend eating your Bacon Funnel Cake after that ride… my tummy is turning just thinking about it.  For the fearless folks that like all the rides, I recommend buying the Midway Ride Armband.  The armband is $30 and gives you the chance to ride unlimited rides all day long.  You can purchase it at the Gate.  Can't make it to the fair this weekend? The Florida State Fair is open until Monday, Feb. 17th.  For more information visit: www.floridastatefair.com
Rock the Yacht "Cruisin' Country Party", Yacht StarShip
Tonight's Cruisin' Country Party features JoDell and the Mountain Road Band.  Voted Florida's Most Entertaining Band seven times by Suncoast Today, these folks are a dynamic and diverse powerhouse of entertainers.  Boat boards at 7 p.m., departs at 8 p.m. and returns at 11 p.m.  For more information or to purchase your tickets visit: www.yachtstarship.com
UniverSoul Circus, Raymond James Stadium (Fri-Mon)
Rated as one of the world's most interactive circuses, UniverSoul showcases the perfect blend of music, theater and circus acts, along with a unique brand of comedy.  Family-friendly and shows through Feb. 10th.  Tickets range from $16 to $35 (children under 1 are FREE) and are available at www.ticketmaster.com and by calling 1-800-745-3000.  For more information visit: www.universoulcircus.com
MythBusters: The Explosive Exhibition, MOSI (Fri through May 8th)
If you didn't have a chance to check out my blog post yesterday about how AWESOME the new MythBusters exhibit is than shame on you! Kidding… you can read it here: http://bit.ly/1g7qrdx
It is no myth that this exhibition is entertaining, educational and just plain COOL!  It is the closest you will ever get to being a MythBuster, completely hands-on and interactive experience appropriate for all ages (and even cool for adults).  Does toast really always land buttered-side down? Do you get more wet running versus walking in the rain? Solve these myths and more!  For more information visit: www.mosi.org
Saturday:
Sant' Yago Illuminated Knight Parade, Ybor City
Feeling a little bit of a Gasparilla withdrawal or wishing you had more beads (aka true treasures here in Tampa) you are in luck! Saturday night Tampa's Historic Latin Quarter, Ybor City will come alive with this nighttime parade with over 100 illuminated floats, marching bands, krewes and even special guest TV talk-show host Jerry Springer.  Parade starts at 7, but I recommend getting there early (like 5:30/6) to claim your spot along the parade route.  Parade starts at 7th Ave. and Nuccio and moves east on 7th to 22nd Street.  Read more in Leah's blog post, earlier this week: http://bit.ly/1cUCGvd
Bands, Brews and BBQ, Busch Gardens Tampa (Sat-Sun)
Who doesn't love live music, craft beers and a little BBQ?  Back again this year, Bands Brews & BBQ brings FREE concerts (included in daily admission) with cool musical acts like R&B singer, Jason Derulo (Saturday) and Allman Brothers Band guitarist, Dickey Betts and the Marshall Ticket Band (Sunday).  The concerts begin at 5 p.m. on Saturday and Sunday.  Make sure you get beer-tasting wristbands for $30 which includes craft beer tastings and samples from several park restaurants.  For more information visit: http://seaworldparks.com/buschgardens-tampa/events/bands-brew-and-bbq/
Bern's Winefest Tickets go on sale (Saturday at 10 a.m.)
Tickets to one of Tampa's most prestigious wine and food events go on sale Saturday morning at 10 a.m.  Last year the tickets sold in minutes, so be sure to set your alarm to get up and purchase your tickets online, because just like every year… they sell out quickly!  Tickets are $125 and can be purchased at: http://www.bernswinefest.com/ Did we mention it is derby themed this year (big hats encouraged)? Giddy up y'all!
Tampa Bay Lightning vs. Detroit Red Wings, Tampa Bay Times Forum
The Tampa Bay Lightning takes on the Detroit Red Wings for a match-up at the Tampa Bay Times Forum. Game starts at 7:30 p.m. To buy tickets and for more information visit: www.tampabaylightning.com

Ybor City Saturday Market, Centennial Park in Ybor
Rise and shine, every Saturday from 9 a.m. to 3 p.m. locals and visitors head over to Ybor City's Centennial Park in search for fresh treasures like: regionally grown produce, plants, gifts, local foods, art and more. For more information visit: www.yborcityonline.com
Sunday:
AAA Vacation Expo, Tampa Marriott Westshore Hotel
For those who love to travel, this expo is for you! Learn about European vacations and cruises and if you book on site you can save up to $500.  The event is FREE and at the Tampa Marriott Westshore hotel from 11 a.m. to 2 p.m. For more information visit: www.AAA.com/TravelEvents or call 813-289-5800 ext. 2463.