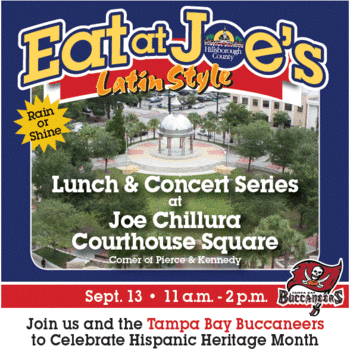 Escape your freezing cold office and enjoy the sunny weather and downtown lunchtime vibe this Friday, Sept. 13 at Eat at Joe's Latin Style in Chillura Square (corner of Pierce and Madison). Bring your lunch, or try a local restaurant or food truck vendor, and spend your break listening to Latin rhythms in honor of Hispanic Heritage Month!
From 11 a.m. – 2 p.m., the park will be loaded with Latin-style entertainment and special appearances by the Tampa Bay Buccaneers cheerleaders, Captain Fear and Natalie Perez & Jose Gray from Noticias Tampa Bay Univision.
Food trucks include The Flattery, Hogfather-Artisan Barbecue, Michelle Faedo's on the Go and Smoothin and Shaken. Nearby restaurants also serve grab-and-go lunches.
See you there!