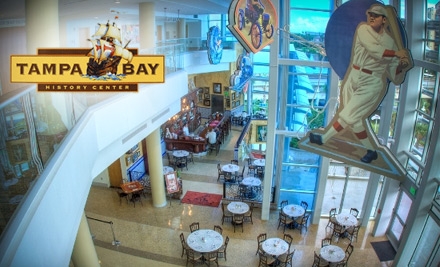 Hello there folks! Jerm here with an update for you on n arts and culture in Tampa Bay deal going on right now that you will want to be sure not to miss!
The fine folks at
Groupon
and The
Tampa Bay History Center
, have teamed up to offer you a
great deal on admission
.
For a very limited time only (deals ends tonight at midnight) you can get half off of the normal admission price to the museum!
I suggest you use your Groupon to explore Florida's little-known Civil War history during Blue and Gray in Tampa Bay: The Civil War on Florida's West Coast, opening January 10, 2011 at the Tampa Bay History Center. The third state to secede from the Union in 1861, confrontations between Confederate and Union troops raged along Florida's Gulf Coast. 
Learn about stealthy Confederate blockade runners and Florida's "Cow Cavalry," plus find out how the War Between the States affected Secessionists, Unionists, slaves and women in the Tampa Bay area. In addition, the History Center will feature the traveling exhibit Florida in the Civil War from the Orange County Regional History Center through April 9, 2011.  Blue and Gray in Tampa Bay is on exhibit through June 2011.
Well folks, as much as I enjoy you reading this post... what the heck are you waiting for, go ahead and hop on-line purchase your Groupon and get a taste of Tampa Bay History!
That's all for now folks, but be sure to check back for all Groupon and Tampa Bay History Center related things to do in Tampa Bay!