Last Friday, I attended the "Bottle Wars" hosted by Fleming's Steakhouse & Wine Bar as part of their celebration of the "Month of Discovery".  During the month of September, Flemings's puts on a series of unique wine events and food offerings that unveil their newest wine collection offering guests over 100 award-winning wines by the glass, known as the "Flemings 100".
I will start by saying that I don't consider myself a wine novice or true connoisseur by any means, but Fleming's "Month of Discovery" events speak to winos and foodies of all levels.  I was happily greeted by wine expert, Heidi Noel, Southeast Regional Service Manager and handed a "Battle Form" that read "Battle of the Hemispheres, North vs. South".  In the restaurant's private dining room five tables were beautifully set up featuring two competing bottles of similar blends or varietals and accompanied with a trained wine expert eagerly waiting to explain each region, history and flavors.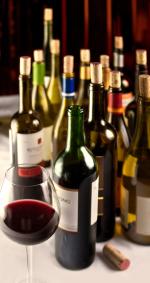 As I mentioned I do not consider myself a wine novice, but the experience was very enjoyable due to my competitive nature.  I enjoyed making my choice and choosing the winner of the wine battle, snacking on delicious menu items from the restaurant's Bar La' Carte menu, making friends and talking about my favorites so far and all for only $25. Don't worry there are still a few more Friday "Bottle Wars" to attend that happen every Friday in September from 5:30 p.m. to 7 p.m. (They fill up so remember to call and make reservations ahead of time).
"Old World vs. New World" (Friday, September 21st) European masters from France, Italy, Germany and Spain go against the best and brightest winemakers from California
"Glass Warfare" (Friday, September 28th) Premium wines and value-priced wines made from similar grapes are put to the taste test
Fleming's Prime Steakhouse & Wine Bar without a doubt has something for everyone, casual and formal. 
For the casual diners, I suggest dropping by the bar before heading out to a movie or after a long day of shopping and unwind with a glass of wine and something off the Bar La' Carte Menu (The Filet Mignon Flatbread is to die for… $12 and perfect for two).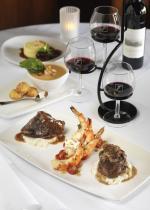 If you are looking for more of a formal dining experience, check out the Fleming's "Memorable Meal for Two" a 3 course dinner for $99 for two or $49.50 for one.  Step back in time and take a moment to remember your  first "Memorable Meal" when you got dressed up in your Sunday's best and celebrated your first job or a job promotion, homecoming, a special birthday with a decadent meal. Well, you still deserve it... so grab someone special and make a new "memorable meal" and make sure you share your story with your waiter or waitress!
Fleming's Prime Steakhouse & Wine Bar offers the best steakhouse dining- Prime meats and chops, fresh fish and poultry, generous salads and sides.   September is full of unique wine events and amazing food offerings to be experienced by anyone. There's no wonder why Fleming's is the recipient of numerous prestigious awards, including Wine Enthusiast's annual Award for Distinction and Wine Spectator's annual Award of Excellence.
Cheers Tampa Bay!
Kat