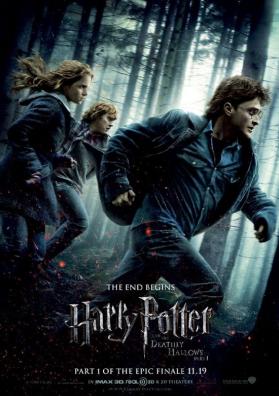 Hello Tampa, Melissa here. It's November 8th, and that means in exactly 11 days Harry Potter and The Deathly Hallows part 1 will be out in theaters!!! If you couldn't tell, I am ridiculously excited for this. Being a long time Harry Potter fan, the last two installments of the series are going to be bittersweet for me.

The Deathly Hallows comes out on November 19th, and of course every theater will be doing a midnight release on the 18th. We all know that going to a midnight release of a movie (especially one as epic as the Harry Potter Series) automatically gives you bragging rights. But what if you could do more than just see the movie? What if you could live it? Well, thanks to our friends over at MOSI, you will have that chance!

Not only will the movie be premiering in the IMAX Dome, but you will have the chance to truly become part of the experience by sitting in on Hogwart's classes, visit carts filled with magical potions and even experience the thrill of battling dementors in a winding maze.
MOSI is even doing daily Harry Potter Themed activities as well. Check out some of the details on those..

First Year Astronomy - Planetarium Show

Gaze into the magic of the stars and get a feel for the power of the universe. Learn stars, constellations and mythical tales of the beyond to help create magical rainbows of colors with the night sky. Search for amazing events such as stars being born and galaxies spinning through the universe.

Transfiguration  - Stair Stage Show

See magic in action as a magician levitates, vanishes, and changes matter with a wave of his wand. Card tricks, rabbits in hats, and magical rings are just a few of the classic tricks our magician will perform. Volunteer to be an assistant if you dare but, beware you may be turned into a giant frog.

Science of the Wizardry World - Science Works Theater Show

Explore the science of wizards, witches, and fortune tellers in an amazing show that ties magic to science. Use alchemy to start fire with water and levitate objects with electricity. Learn to suspend matter in mid-air and fill an upside down can with water. Become a wizards apprentice and learn the secrets to magic.

Potion Shop - Demonstration Cart

Fizz, bang, and boom are sounds you may hear in this shop. Mix, stir, and shake the elements of the Earth to create mystical reactions. Discover the instruments used by herbalists, alchemists, and apothecaries.  Be sure to copy the special recipes into your spell book.
Borgin & Burkes Creepy Shop - Demonstration Cart

No wizard is complete without the scars, bumps and bruises one gets from mishaps in spell casting, battles with dementors and falling from flying brooms. At the creepy shop young wizards and witches will look the part of a seasoned spell caster. Additional fees apply.

Longwings' Labyrinth - Care of Magical Creatures Maze

Test your knowledge of mythical creatures inside Longwings' Labyrinth. Discover the untold secrets of unicorns, dragons and more. Learn to care for your pet owls, rats, and toads and create your own magic wand to help you battle dark forces on your magical journey.

Astronomy Practical - SkyWatch Telescope Viewings:

November 20

December 18

January 22

February 12

View planets, stars and galaxies while learning about telescopes. Learn to identify objects in the sky and how to use a scope to get a closer look. Viewing will begin at sundown.  Please note, clear skies are required to use the telescopes. Viewing will be cancelled if it is raining or cloudy.
The Potter Themed Activities will start Friday, November 19th and go until January 2nd. That is quite some time, so if you're a Potter fan there is no excuse to not get yourself out there and have a great time! Tickets for the shows, including the midnight release are on sale now so hurry before they are all gone.You can call 813-987-6000 to purchase.
And of course, don't forget to keep checking back here for more about all the great Tampa Bay Area events from me and the team.