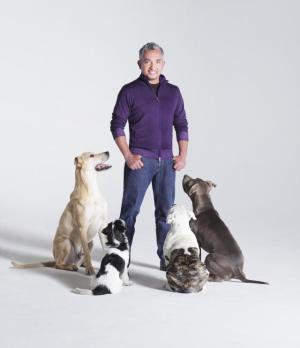 This Saturday night at the Straz Center come and experience "The Dog Whisperer" Cesar Millan live! He's the star of Nat Geo's brand new series, Leader of the Pack and bestselling author.
Watch him perform his incredible dog training techniques in a LIVE seminar that will give you tips and tricks to transform your dog (and you as a dog owner). He will show you how to see the world through your dog's eyes and how you play a role in their behavior.  In the performance, Cesar is going to have dogs from a local shelter that he's never even seen before to demonstrate his methods of training and prove that his practices truly work. His notorious sidekick Junior will be joining him as well for the show. Cesar's simplistic training methods will inspire you to try them with your own canine companions! There is also a Q&A session at the end of the performance where you will have the opportunity to ask Cesar your own questions.
For more information visit www.strazcenter.org.
This event will take place Saturday June 15th at 8 PM at Carl Morsani Hall at the David A. Straz, Jr. Center for the performing arts. It's located at 1010 North W.C. MacInnes Place Tampa, Florida 33602