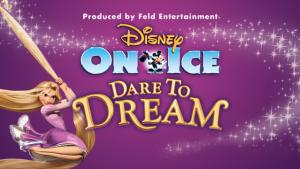 Hey there folks! Jerm here with that awesome giveaway that I know you guys have been waiting for!
Some of you even double-dared me to do this giveaway and I came through with two 4-packs of tickets to Saturday evening's 7p.m.  Disney on Ice: Dare to dream show at the Tampa Bay Times Forum!
Now how do you get the tickets? Well let me tell you! All you have to do is play along with us on some trivia and you'll be entered to win!
You can either play along with us on Twitter or you can play along on Facebook. All you have to do is respond to the posted question on Facebook or Twitter with the correct answer and you are entered. This evening we'll randomly draw winners names and that's it! You can also increase your chances of winning by retweeting on Twitter, or sharing the post on Facebook.
Well that's enough of me yapping, let's get to answering some trivia!
True or False: The Princess and the Frog was inspired in part by E. D. Baker's novel The Frog Princess
True or False: Disney on Ice Shows have have played all over the world, including non-traditional skating regions like Americas, the Middle East, and Asia, Australia, Antarctica and Europe?
In the animated musical film The Princess and the Frog, the voice of Tiana was played by this "rosey" hollywood actress?
Well those should keep you guessing for a bit! Be sure to check back later as we will be announcing the winners! That's all for now but stay tuned in for more things to do in Tampa Bay related updates!