When school is out, learning and fun are in at the History Center! Hola folks! As we approach Turkey day, I wanted to drop you a note from our friends over at the
Tampa Bay History Center
about a cool program going on next week!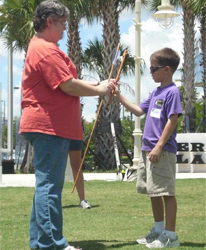 Presented in partnership with the Florida Public Archaeology Network, your kids can spend a full day exploring Tampa's unique history through creative activities, games, interactive exhibits, and more.  Designed for kids in grades 3-5.  Discovery days are led by certified teachers and museum educators.
Carve an alligator for Thanksgiving dinner? That's just the beginning of the real first Thanksgiving story that occurred here in Florida! Unearth a Timucuan kitchen mound like a true archaeologist.  Learn about the special meal and ceremonies shared between the Spanish explorers and Florida's first people through exciting games and crafts.  You'll never look at Turkey Day the same way!
I heard that registrations are filling up so fast so if you are interested, please contact the History Center's Assistant Curator of Education, Jennifer Tyson, at 813-675-8960 or jtyson@tampabayhistorycenter.org
That's it for now, but check back often for more info on holiday related things to do in Tampa Bay from Jerm and the rest of the Tampa Bay team!