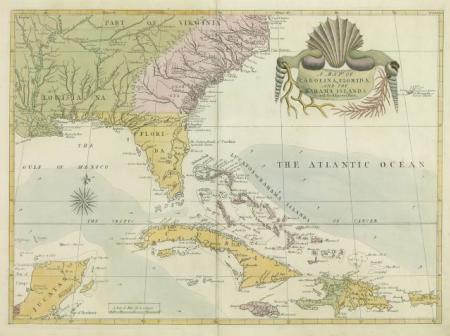 The Land of Flowers.  Isla de Beimeni. La Florida. Sixteenth century explorers had many names for Florida when they first discovered it. Now, you have the chance to see our beautiful peninsula as they did upon landing here over 500 years ago at the Tampa Bay History Center's newest exhibit.
Marking the 500-year anniversary of Ponce de Leon's 1513 arrival to Florida, the Tampa Bay History Center presents Charting the Land of Flowers: 500 years of Florida Maps, opening September 21. Charting the Land of Flowers will unlock six centuries of Florida history, bringing together maps from storied collections around the world, many of which will be on public display for the first time.
Charting the Land of Flowers reveals that much of the earliest European exploration of North America wasn't in New England, but in Florida (Can you blame them? It's so much nicer down here). Guests will enjoy the rare opportunity to see Florida from the perspective of bold European explorers who navigated uncharted territory to map a state that would eventually become a cultural hub, agricultural powerhouse and one of America's top tourist destinations.
The exhibition includes rare maps from the Library of Congress—some of which are the only ones in existence—and maps that are as vibrant as they are awe-inspiring. With pink, red and purple hues, these early maps and charts are as much works of art as they are special pieces of Florida history.
Featured maps include:
1513--Tabula Terre Nove; Portrays the world as it was known at the time of the Ponce de Leon's Florida landing.
1786--Maritime Observations in a Letter by Benjamin Franklin; Includes "A Chart of the Gulf Stream."
1864--"The Capture of Tampa Bay, Florida;" Shows the Union capture of Tampa.
1917--American Automobile Association (AAA); Early Florida road map.
2009--NASA view of Florida from Space, taken by astronaut and Clearwater native Nicole Stott.
Discover something new with the Tampa Bay History Center's newest exhibit, and unlock not only a piece of Florida history, but a part of the world's history.
Charting the Land of Flowers: 500 Years of Florida Maps will be on exhibit through Feb. 16, 2014 at the Tampa Bay History Center. More information at www.TampaBayHistoryCenter.org. Call 813.228.0097 for details.