Happy Friday! Alex here with some great news for all of the students around Tampa Bay!
Busch Gardens' water park, Adventure Island, is offering a special $24.99 single-day admission ticket to students of all ages every weekend from September 10 through Oct. 30, 2011. This special applies to all college students too, but don't forget to bring your student ID or enter the promo code, COLLEGE online at AdventureIsland.com.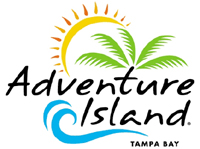 Adventure Island is open Labor Day, Sept. 3 to 5, from 9:30 a.m. to 6 p.m. Then, the park is open weekends only Sept. 10 through Oct. 30 from 10 a.m. to 5 p.m.

Experience the 30 acres of water-drenched fun, filled with slides, corkscrews, waterfalls, a wave pool, a children's water playground and other family attractions that makes up Adventure Island at an awesome price!
Tickets are available at any Adventure Island ticket window and online at AdventureIsland.com.
Single-day admission tickets for Adventure Island are regularly $42.99 for adults and $38.99 for children ages 3 to 9. Ages 2 and younger are free, and all children must be accompanied by an adult. Visit www.adventureisland.com for more information.

Take advantage of this great deal while it lasts!

Have a wonderful weekend and check back with us next week for more information on Things To Do In Tampa Bay and Tampa Bay Theme Parks!