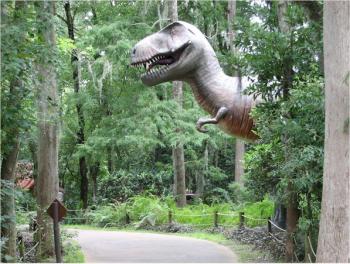 This summer, Dinosaur World celebrates 15 years of bringing people face-to-face with history's most MASSIVE creatures! The park is celebrating the milestone with several all-new interactive exhibits and activities including:
The all-new 5,000 square-foot Exploration Cave, where guests will enjoy hands-on activities and an interactive tour where they will learn about fossils, bones and why fossil discoveries continue to be important to us today.
"Triviasaurus Rex," the interactive trivia game that will test kids of all ages on all things "dino"!  
Dinosaur World's new "Dino Disguise" show, where guests must help their guide create the perfect disguise to walk amongst the dinosaurs! From head to toe to tail, guests will help build a dino-costume and try to keep their fearless guide from becoming lunch for some prehistoric predators!
"Mammoths: Giants of the Ice Age," Dinosaur World's new 5,000 square-foot open-air exhibit featuring 13 life-size mammoths!
Dinosaur World is located at 5145 Harvey Tew Rd., Plant City, FL. For details, call 813.717.9865 or visit www.dinosaurworld.com.
Happy dino-discovery! Stay tuned for more on what's going on in Tampa Bay!